Sixth Form Conference
As in previous years, Year 12 students enjoyed a whole week of UCAS and Careers Conference.
Monday 29th June – Friday 3rd July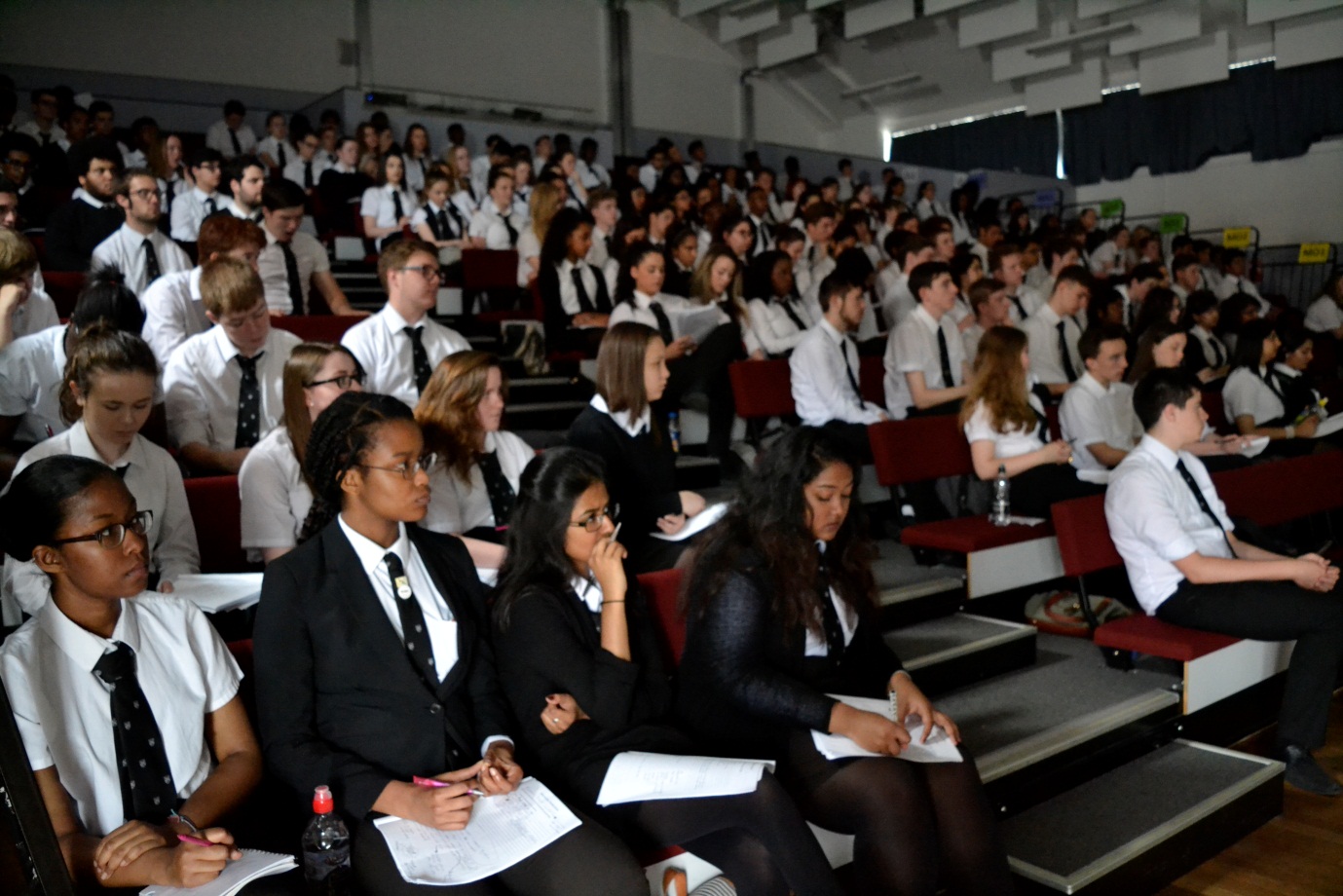 As in previous years, Year 12 students enjoyed a whole week of UCAS and Careers Conference.
---

On Monday 29th June we welcomed Mr Guthrie Denniston from ULAS, (Uniform Leavers Application Sevices) who delivered a presentation about the new innovative online platform bridging the gap between schools, universities and employers. Starting from September we will be using this new website with all our Year 12 and 13 students. On Monday we also took all our students to the Higher Education Fair at Greenford Hall, where they had an opportunity to talk to representatives from over 30 universities from all over UK. Before the visit, we invited Bev Pullen from the University of Surrey to come and talk about how to get the best out of the HE Fair. Students had an overview of the type of questions they should be asking, ranging from the course structure and modules to the accommodation and bursaries. We were told by the organisers that our students were well prepared and used the visit to the full advantage and they impressed everyone by their maturity and conduct.
Click for Photographs of Day 1
---
Tuesday 30th June was a busy day with a carousel of workshops attended by all students. There were sessions on how to complete the on line UCAS application, how to write a personal statement and how to conduct a course search. The day culminated in all students registering on the UCAS as well as ULAS websites. This way we have given all our Year 12 students a head start in the long process of applying to university.
Click for photographs from Day 2
---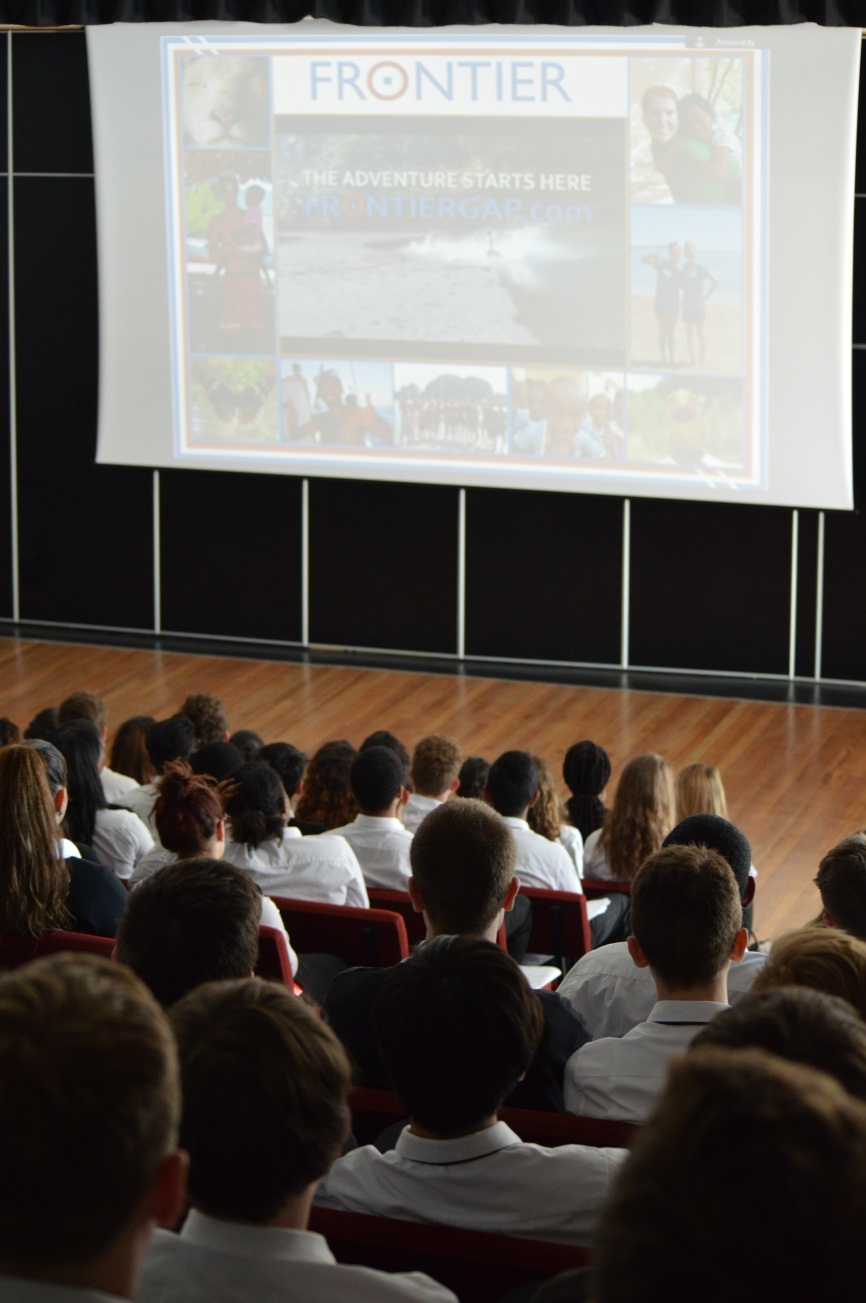 On Wednesday 1st July we started with a session delivered by Denah Fitzharris who is a member of the Events and Outreach team at Frontier, a company experienced at organising Gap Year and Projects Abroad. Students learned about many different volunteering opportunities ranging from wildlife conservation to teaching abroad. Many of our students signed up to receive further information. On Wednesday we also welcomed over 20 guest speakers from leading businesses delivering "Meet the Professionals" sessions. Students were able to sign up to two talks of their choice, based on the area of interest or the future studies. This way everyone found that they were talking to young people who were genuinely interested in that particular field. Our guests were really impressed by the level of detailed and mature questions. Students who were chosen to act as school ambassadors welcomed the guests and looked after them throughout their visit. The day ended with lunch for all our guests. Year 12 students found meeting the professionals to be particularly beneficial and many were inspired and motivated by our guests. It was especially nice to see that some of the guests were our ex-student alumni, who wanted to give back to the community by sharing their experiences and advice. We are also very grateful to STEMNET, who put us in touch with their Ambassadors, who are experts in engineering and STEM subjects.
We received really positive comments from our guest speakers: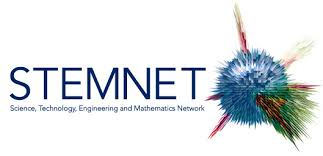 "I thoroughly enjoyed myself today and I do hope the feedback continues to be good. Thanks, and well done for organising the whole week! "
Andrew Bell, STEM Ambassador

"Thank you for your wonderful hospitality. The event was well organised, the students were attentive and we were well looked after which made my efforts seem worthwhile. A contrast to some schools that I have visited"
William Wong, STEM Ambassador
"Thank you for asking me to come along - and for the delicious lunch. I really enjoyed meeting the young people at Cardinal Wiseman. I am very happy to keep in touch with any students interested in journalism/writing who might want or need help with contacts/work placements"
Jo Griffin, Freelance Journalist
"On behalf of Frontier, I would like to take this opportunity to say a massive thank you for inviting us to meet your students yesterday. We admire your dedication and commitment towards providing your students with information about their options after 6th form life. Thank you for taking the time and effort in arranging this visit for us. I really enjoyed meeting with you and your students and talking to them about travelling and volunteering opportunities abroad, which seemed to generate a lot of interest!"
Denah Fitzharris, Frontier Outreach Worker
Here are the details of all the sessions:

SPEAKER

TOPIC OF THE TALK

Mr Andrew Bell - STEM Ambassador

Senior Technical Consultant at MSC Software with a background in Mechanical Engineering

Mechanical Engineering,

Software Development,

Studying STEM subjects

Mr Sebastian Schwarz - STEM Ambassador

Senior Researcher at BBC, with an Engineering

background in Media Technologies,

Media Technology,

3D Video Processing,

TV/movie projects,

Working for BBC/apprenticeships

Mr William Wong - STEM Ambassador

Chartered Marine Mechanical Engineer

Merchant Navy Scheme

Marine Engineering

Aero engine development

Petrochemical plant design

Mr Michael O'Toole

Global Head of Morgan Stanley Enterprise

Financial services, Private banking, Investment Banking, IT Technology Production and Innovations in Finance

Mr Leslie Hurst

Chief Executive Officer at Siblu Holidays

Careers in the Travel & Tourism

Industry

Working abroad

Mr Michael Olagunju (Ex-student)

Financial Trader at Atlantic Trading UK

Financial Services

Financial Trading

Miss Angelika Podlinska (Ex-student)

Mr Conor Reed and Mr Edward Murrell

British Airways Apprenticeships

Working for BA

Apprenticeships in BA to include:

Securities, Engineering, Cargo

Ms Sandra Makumbi

Step Forward, Challenge

Apprenticeships in Child Care, Office Admin, IT Software and Web Design, Media and Graphics,

Ms Teresa Jennings

Registered Nurse

Nursing degree

Working for NHS

Mrs Jo Griffin (Ex-student)

Freelance Journalist for Guardian and Observer

Journalism

Freelance writing

Creative writing

Miss Stephanie Brandano (Ex-student)

Police officer with a background in Forensic Science and Forensic Psychology

Forensic Psychology

Forensic Science

Working for a Police Force

Mr Michael Wendling

Radio Broadcaster, Producer at BBC Radio

Broadcast Journalism,

BBC, Radio, TV,

Current Affairs, Foreign Affairs

Mr Kumar Bhalla and Ms Particia Nelson

TSB Local Branch

High Street Banking,

Entering into banking without a degree

Working at a local branch

Ms Kathleen Coll

Head Teacher at OLOV Primary School

Primary Teaching
Click for photographs from Day 3
Click for lunchtime photographs from Day 3
---

On Thursday 2nd July, we listened to a presentation delivered by Jenny Seabrook and Matt Taylor from Alexander Mann Solutions. Both Jenny and Matt are experienced at conducting recruitment interviews so were able to advise our students on how to write an outstanding CV and prepare for a successful interview. They also talked about Personal Branding and Social Media Do's and Don'ts, both fascinating topics. On Thursday we also welcomed over 20 Wiseman Alumni, all in their first or second year at university, who came back to talk to our students about experiences of university life. Those sessions were fun and lively and gave our students an opportunity to ask all those important questions about Fresher's Week, finances, living away from home and student life in general.
Click for photographs from Day 4
---
On Friday 3rd July, we took all our students to central London. We met at Trafalgar Square and after getting students into groups, we sent them on a University Treasure Hunt. Each team had to travel around London to various universities and colleges as well as London landmarks. They had to bring back prospectuses as well as photos to win points for this challenge. There was no end to students' inventiveness; they walked, travelled on trains, buses and even jumped on Boris bikes. It was a lovely, hot day enjoyed by all and a fantastic way to finish a remarkably successful week of UCAS activities.
---
These are some of the comments we received from our students:
"I thoroughly enjoyed the week, it was very well organised and highly informative as I learnt how to better my CV and have the best chance to get into my preferred university with personal statement and application tips - thank you Mrs Sowa! My highlight of the week was the career talk from a working professional, a BBC producer. It opened my eyes to another career option (journalism) and didn't sugar coat the realities of the either! It was a great networking opportunity and I hope the speaker is invited next year also! Finally, talking to the university students gave a relaxed and entertaining talk to increase our understanding to uni life"
Madeline

"The main aspects of UCAS week that I appreciated the most, was the lectures on signing onto ULAS and the UCAS websites, if I had not attended these talks I would have been absolutely lost on the application process, they have put me at the front of my university journey. I also enjoyed the speeches on CV writing and Interview tips, which would be much-needed advice that I can use in many of my future endeavours"
Mercedez
"The conference really did open my eyes to what I actually needed to do to get into university. The things I found most useful was the talk on personal statements as I had no clue how to write one before the talk and also I enjoyed hearing things from the past students as they spoke about things that a lot of students think about but they are not the kind of things you would ask a teacher, they were more personal questions!"
Chelsea
Overall the week was a great experience as we got to learn about various activities. From learning about how to write personal statements to how a gap year (with Frontier) would benefit us. The talk about Frontier really did open my mind to possibilities, other than going straight in to higher education. The introduction to how to write a personal statement was very useful, since we have started the UCAS applications and get a head start to drafting one, during the summer. The career talk given by Michael O'Toole (managing director of technology for Morgan Stanley) was very inspiring, since I want to go into a similar career path. The emphasis of the talk was to discover "What's important to you in your career?" I really enjoyed the week and found it very beneficial."
Hira
"I particularly enjoyed listening to the financial trader on Wednesday. I found him to be very inspiring as he explained his under achievements in sixth form leading to a 1st in maths at university. I felt that I could relate to him the most as he also studied in Wiseman and was a young speaker. I found him to be motivational as he emphasised the importance of working hard towards your goals and to never give up despite any setbacks. The personal statement and UCAS application sessions were also good."
Angela

Thank you to all our guests, students and staff for making the conference very successful and productive.