Exam Information
All exam information and timetables will be posted here at the relevant times throughout the year so check back regularly. Scroll down to find your year group.
Results Day
GCSE results will be available on Thursday 23rd August 2018 to collect from the Bethlehem Hall from 09:00 -12:00.
Hopefully you will all be pleased with your results, if however there are any queries then SLT and/or the sixth form team will be on site to assist you.
You will find attached at the bottom of this page information around Enquires About Results (EAR) as well as the students request form. Please note if you wish to file for an EAR, you should in the first instance discuss your results with your teacher or head of department.
---
Record breaking A Level results at The Cardinal Wiseman Catholic School
A*-A: 33%, A*-B: 70%, A*-E: 100%
Diplomas: 100% pass rate
We are extremely proud of our students and are hugely impressed with the grades that they achieved which will allow so many of them to get their first choices at the best universities in the country. These results outshine any of the previous records of the school. We continue to have a 100% pass rate on A Level and BTEC Diploma courses, with the number of A Level entries graded at A*-A soaring to 33%, A*-B to 70% and 90% at A* - C, all significant increases from the previous year. As an all-inclusive school we pride ourselves on supporting students of all abilities throughout their time at the school and we are exceptionally happy to see them all mature and achieve in their time here. These results reflect the hard work, dedication and the exceptional work ethic that the students and staff have displayed throughout the year.
We have a strong tradition of high expectations and aspirations and are delighted that so many of our students are going to university or have opportunities in excellent degree apprenticeships, for example with Morgan Stanley.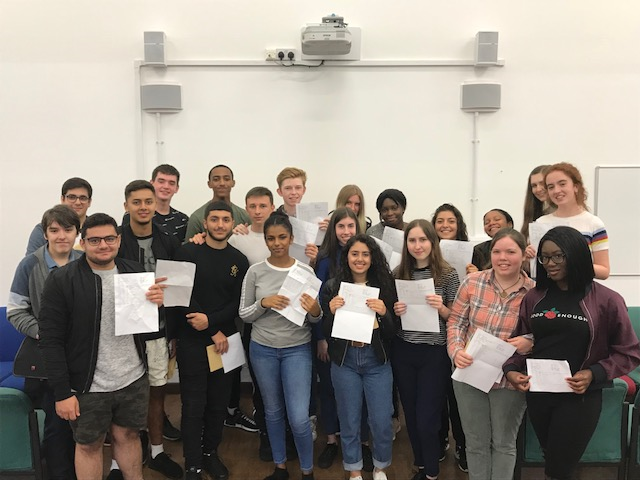 We would like to congratulate all of our students who achieved results that they were proud of, whatever the grade. However, we feel a special mention should go to the 26 students who achieved all A* and A grades as this is clearly a tremendous achievement.
Next year is an exciting time for our Y13 students as they start the next chapter of their lives, whether at university, on apprenticeship schemes or on work placements and we wish them all the best for the future.
To see the Results Day Photo Gallery click here.
---
EARS Form
The EARs form for GCSE/A Level remarking is available at the bottom of this page.
---
Timetables
These documents must be cross referenced and read with your individual exam slip
---
Sixth Form
---
Year 11
---
Exam Tips
The exam boards all have website sections for specifically aimed at students and parents. You may find some of their suggestions helpful: