Mini Pilgrimage to Westminster Cathedral
We were privileged to receive an invite from The Chairman of the Catholic Children's Society, Mgr Phelim Rowland, to our diocese's cathedral, the Metropolitan Cathedral of the Precious Blood of Our Lord Jesus Christ, to celebrate The Good Samaritan Mass.
Our school's Mini Pilgrimage comprised two staff members and eight students from Years 7 and 8. We began our pilgrimage at midday in prayer before we left our school. When we left on our journey we had to negotiate our way around London's hectic public transport system to reach London Victoria train station. Fifty minutes (and some tasty Polish biscuits!) later we arrived at London Victoria One of our Year 7 students led the way to the Cathedral.

We arrived at the big plaza outside Westminster Cathedral with plenty of time, so we decided to stop and take a few pictures.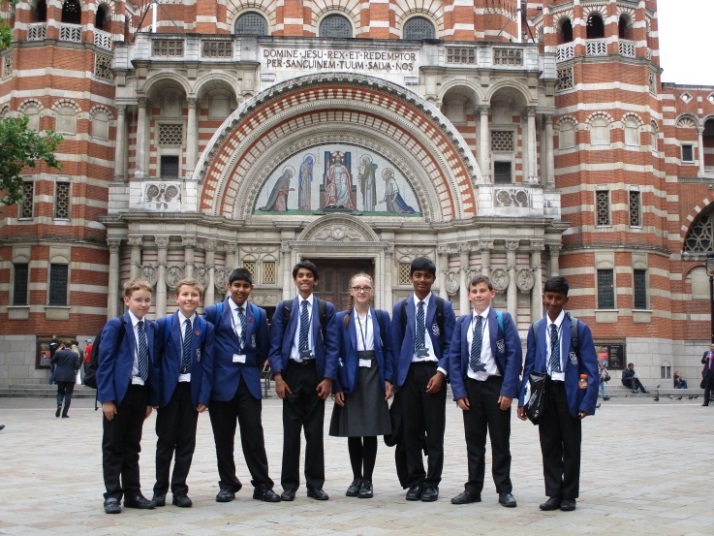 The Pilgrims
We were very fortunate to have time to visit one of two brilliant Christian book shops outside the cathedral, Saint Paul's book shop. The students were free to roam around the book shop for a while to look at all the interesting items for sale. Some of our keen altar servers were adamant they wanted to buy a thurifer for our schools chapel, while others were happy to buy smaller gifts for home, from prayer cards to a crucifix.

Once we finished in Saint Paul's book shop we made our way into Westminster Cathedral, a place where hundreds of Londoners take refuge each day for a time of prayer and solace away from the hectic day to day busy-ness of London.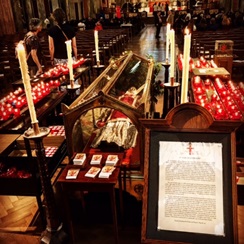 As we walked down the side aisle of the Cathedral we couldn't help but notice a large glass box surrounded by candles in the middle of the seating area. On closer inspection we found that the large glass box was in fact the coffin of a great saint, John Southworth, whose feast day the church was celebrating. Saint John's Southworth's preserved body was on display to remind us of the Church beyond death and to help us to remember to trust in what the good Lord has in store for each and every one of us.
The Preserved Body of St John Southworth
The mass was presided over by Bishop Mark Jabalé, as Cardinal Vincent was called abroad to a conference. We heard a great homily about all the amazing super heros we see in films these days and how we are all seeking for one hero, who is Jesus Christ.

The mass was a beautiful show of unity between schools across our diocese with different members of each community helping with separate parts of Mass. After receiving our Lord in the Eucharist and being filled with all the graces we needed, we made our journey back home to Greenford.
The students all really enjoyed their pilgrimage and asked if they could go again next year.
---
Thumbnail Image By Gryffindor (Commons) [CC BY-SA 3.0 (http://creativecommons.org/licenses/by-sa/3.0) or GFDL (http://www.gnu.org/copyleft/fdl.html)], via Wikimedia Commons