Another year of fantastic A Level results!
Another year of fantastic A Level results!
Congratulations to Y13 students and staff on an excellent set of A Level and Diploma grades!
A Levels: 100% A - E pass rate with A* - B at 53%
Diplomas: 100% pass rate with an Average Grade of Distinction * -
We are really pleased with the fabulous grades our young people achieved this year. We continue to have a 100% pass rate at A Level and BTEC Diploma courses. The number of A Level entries graded at A* - B is 53% and 83% at A* - C, a significant increase from the previous year. This is a great result for our all-inclusive Sixth Form! We are extremely proud of our students who have worked exceptionally hard all year and shown incredible commitment and dedication to their studies.
In a year with new and more challenging A Levels, our dedicated staff have worked tirelessly with pupils to ensure the best possible outcomes for them. We have a strong tradition of high expectations and aspirations and are delighted that nearly 150 students are off to university, including prestigious Russell Group universities like the University of Cambridge, King's College, Warwick, Bristol and Nottingham.
A special congratulations to Varshika Duelas (pictured below) who achieved A*(Maths), A*(Chemistry), A*(Biology) and A (Geography) and is going off to study Natural Sciences at Pembroke College, Cambridge.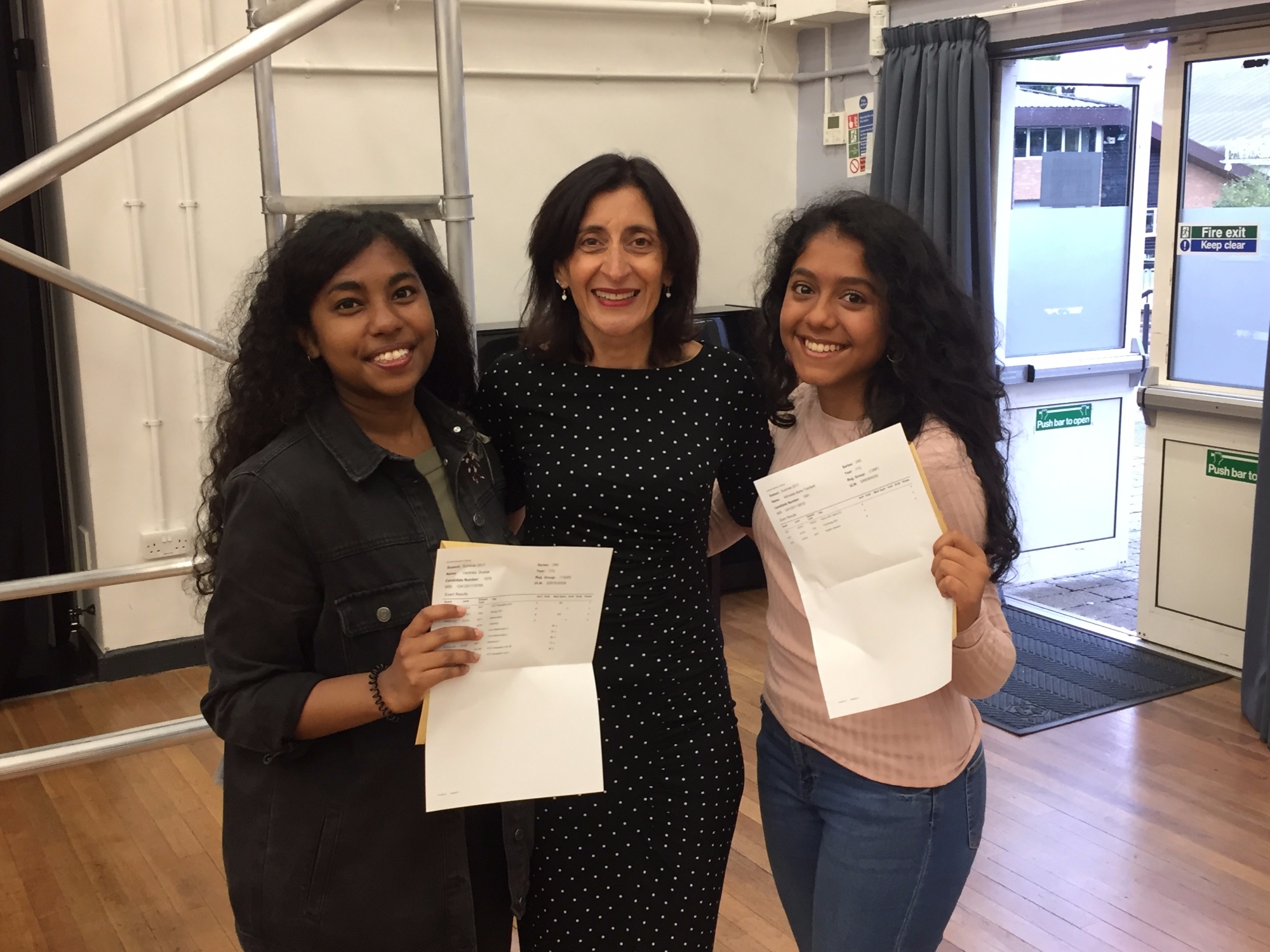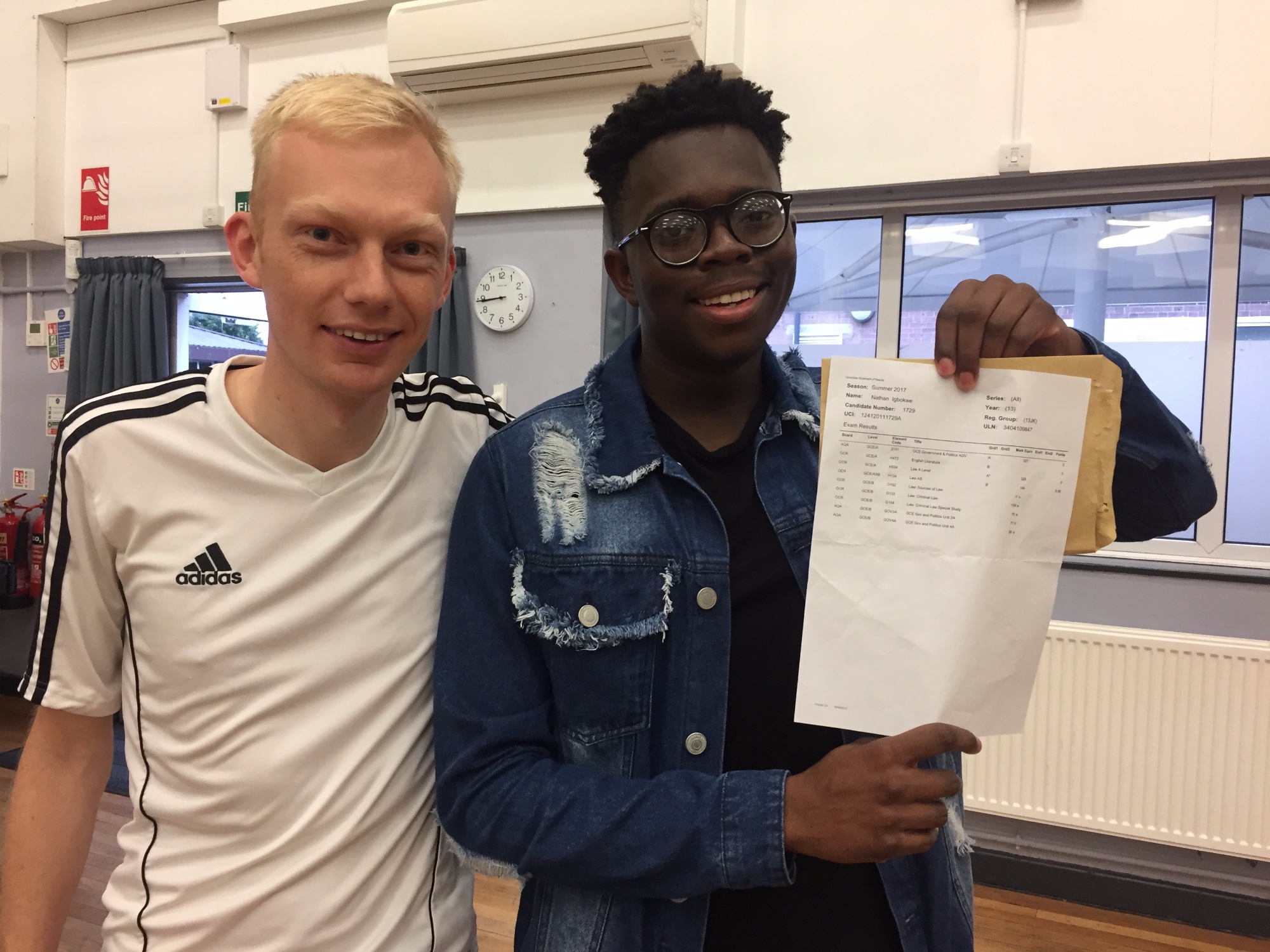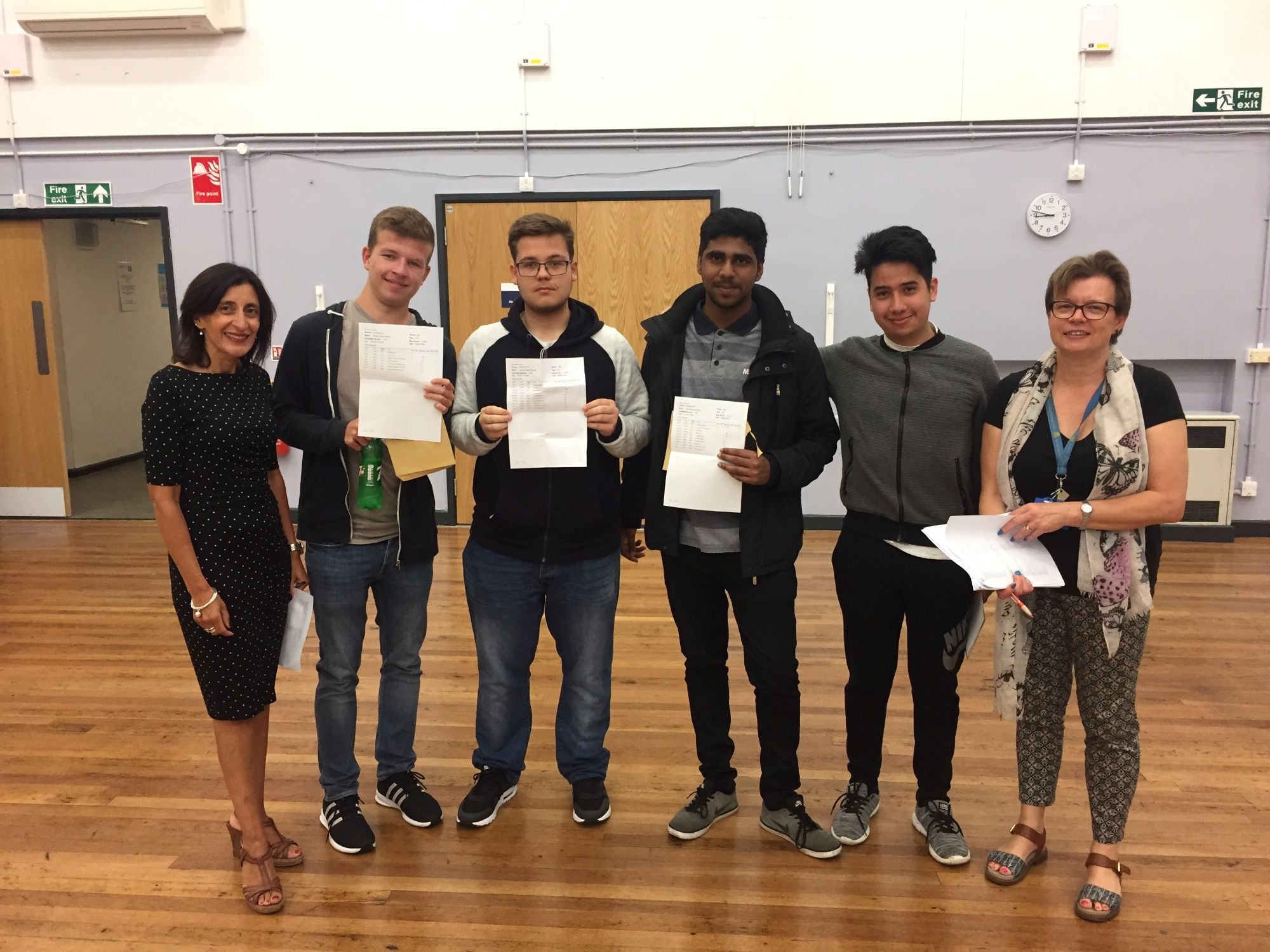 Good luck to all of our Y13 students as they start a new journey – either at university, on apprenticeship schemes or on work placements – we wish them all the very best and look forward to sharing their continued success as members of the WISEMAN COMMUNITY!
The following Y13 students achieved great results – well done!
| | |
| --- | --- |
| George Black | Mathematics A, Biology A, Geography B (Geology, University of Leeds) |
| Victoria Chmielewski | History A, Law A, English Literature C (History, University of Southampton) |
| Varshika Duelas | Biology A*, Mathematics A*, Chemistry A*, Geography A (Natural Sciences, University of Cambridge) |
| Daniel Foley | Geography A, Biology A, Chemistry B (Biological Sciences, University of Birmingham) |
| James Foley | Biology A, Mathematics A, Chemistry A (Biological Sciences, University of Birmingham) |
| Nathan Igbokwe | Law A*, Government & Politics A, English Literature B (Law, University of York) |
| Lorna Judge | Psychology A, Mathematics A, English Language B (Accounting and Finance, University of East Anglia) |
| Damian Kleczek | Mathematics A*, Geography A, Psychology B (Computer Science, Loughborough University) |
| Joseph Mleczko | Economics A, Physics A, Mathematics A (Economics, University of Nottingham) |
| Ina Monponbanua | Law A*, DT B, English Literature B (Law, University of Sheffield) |
| Conor Norris | Mathematics A*, Chemistry A, Physics B (Maths, King's College, London) |
| Lucy O'Donnell | Psychology A, Law A, English Language B (Law with Criminology, Royal Holloway) |
| Ben Phillips | History A*, Psychology B, English Literature B (English, University of Sussex) |
| Dushiyan Sathiyaseelan | Mathematics A*, Art C, History C (Architecture, University of Kent) |
| Andrew Slack | History A, Economics A, Government & Politics B Economics and Politics, University of Sheffield) |
| Michaela Tranfield | History A, Psychology A, English Literature B (English, King's College, London) |
Year 12 – AS Level Results 2017
Congratulations to the following Y12 students who achieved all A grades in their AS Levels this year:
| | | |
| --- | --- | --- |
| Adams | Ryan | A-Physics, Maths, Further Maths |
| Barry | Conor | A- Psychology, Physics, Maths |
| Biondi | Paolo | A- Economics, Physics, Maths, Chemistry |
| Bqain | Issa | A- Economics, Physics, Maths, Further Maths |
| Bqain | Mariam | A- Biology, Maths, Chemistry |
| De Silva | Dominic | A- Physics, Maths, Further Maths |
| Faris | Hawi | A- Economics, Maths, Further Maths |
| Gibbs | Ciara | A- Biology, Physics, Maths, Further Maths |
| Grundy | Isobel | A- History, English Literature, Law |
| Holmes | Mark | A- Politics Economics, Maths |
| Khoury | Georges | A- Physics, Chemistry, Maths, Further Maths |
| McNally | Nicole | A- Economics, Psychology, Maths, English Literature |
| Oboh | Otiti | A- Biology, Chemistry, Maths, Further Maths |
| Rule | Josie | A- Physics, Chemistry, Maths, Further Maths |
| Sullivan | Ross | A- Chemistry, Economics, Maths, Physics |