Ex-Student Inspires
"Believe in yourself, never give up, be nice to people..." Drama, Film and Media students advised.
Last week we had a great pleasure to welcome back Cardinal Wiseman ex-student, Marvin Brown, who is now based in LA but while in London to see his family wanted to visit his old school and give an inspirational talk to our Drama, Film and Media students.
Marvin's talk to our students was truly inspirational. Coming from the same background as majority of them, he was quickly able to relate to them. His message was very simple: if you are truly passionate about something - believe in yourself, never give up, be nice to people, create positive energy around you, surround yourself with people who will support you rather than drag you down and work hard, grabbing every opportunity life presents. He also offered a lot of practical advice such as the use of social media and internet to build up a portfolio and reach out to people. Marvin had such a positive impact on our young students, many stayed behind to talk to him privately and pose for a group photo.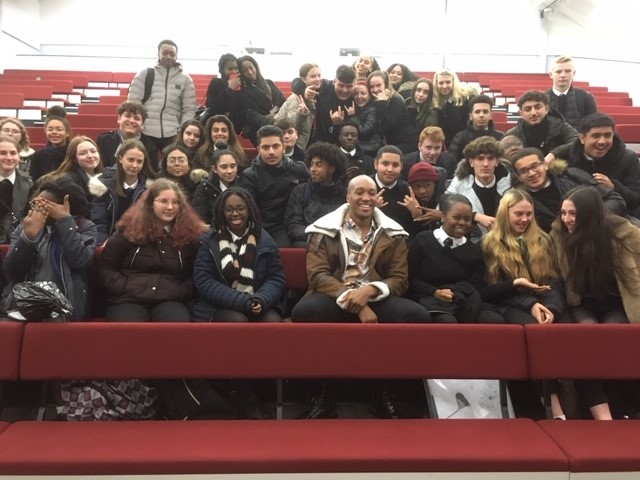 Marvin left Wiseman in 2007 at the end of his GCSE exams. After completing A Levels in a college in Hammersmith he gained a BSc Degree in Multimedia Technology and Design from University of Kent. His main passion has always been dancing, which he showcased every year in the school's Arts Festival. His professional dancing career included working with the likes of Beyonce, Mariah Carey and Katy Perry. Through this experience he was able to smoothly transition into a creative artist. As a Creative Director /Associate and a Choreographer he worked on concert tours and live events with Dua Lipa Live 2016, Jeniffer Lopez 2017 Pre-Super Ball concert and Britney Spears "Domination" Residency 2019, to name just a few. He is a versatile creative force that has experience both onstage and off. His degree in computer science has given him a more critical insight in merging his analytical eye with his creative mind and movement. Marvin is a creative who is exceptional at Directing, choreography, staging, fashion, and 3D modelling. During his dance career he gained a wealth of experience in a variety of dance styles and was able to utilize this in his work for artists, live industrials and fashion shows.

He now works with a team based in LA called Ordinary Creatives. Recently they had the privilege of Creative Directing and Choreographing the first live performance with the new cast of the Iconic Disney Franchise 'High School Musical' which was last week broadcast on Good Morning America, US biggest morning show with over 5 million viewers. This performance was also a main promotional point for the launch of Disney's new ground breaking streaming service Disney+.

We are really proud of Marvin and what he has achieved so far. He is still at the beginning of his career and surely we will hear more about this incredible young man in the future.