Beginning the Lenten Journey
As we begin the period of Lent we turn to The Holy Father for guidance during this season of repentance and see how we, as a community, can find inspiration in his words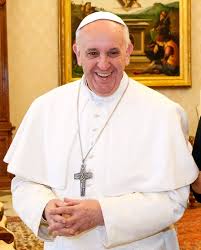 This past week we as a world wide Catholic community have marked the start of the season of Lent with the traditional Ash Wednesday Service. This time is a period in the year when we often abstain from a particular treat in our lives and reflect on our relationship with God. But it is not simply about giving up something that we can often rely upon, Lent is also about spiritual renewal and developing as both individuals and a community of believers. However it is often hard to grow without direction and for that we turn to our Holy Father in Rome, in his First Lenten message (the link is below) Pope Francis has invited us as brothers and sisters to accept the call to poverty so that we can attain the riches of Christ and the Gospel message, but not simply for our own benefit but we must also strive "take practical steps to alleviate it."
So as we go about our Lenten journeys let us remember and pray for those who are less fortunate than ourselves and remember our call as Christians to help all in need.
Pope Francis' Lenten Message 2014
To see the first Lenten Message of Pope Francis' pontificate click the link and download the full message in the top right hand corner of the page. Click here
Prayer:
As we set out upon our Lenten journey, we pray Lord that you be with us as we reflect upon you in our lives. In this period of penance and reconciliation give us strength and the resolve to see you and be for you in all things.
Amen