Fruits in the Desert
A barren and often scary place; the wilderness in which we enter at Lent can bring to bear a great spiritual harvest.
Fruits in the Desert
If you were to take a holiday, some time away to recharge the batteries I can't imagine that 40 nights in the desert, fasting alone would be the top of many peoples wish lists! Images of barren waste lands with nothing for miles around can fail to get the spiritual juices flowing. In a world of noise, the concept of silence can be a rather daunting experience. When we do stop and take time to reflect we struggle with the emptiness and begin to itch with a need for sounds of activity and obvious purpose. But in the silence of the wilderness there is a resolve that we can all find, a stillness that brings with it a sense of purpose and renewal, an energy that feeds our hunger and empowers our being.
It is important to withdraw ourselves from time to time, to fully shut out the hype of life and enter a desert of the soul, because when we do we become aware that within us lies a deep well of wisdom, a voice that calls out to us with guidance and love.
Below is a link to a video that Mr Kiely has been showing in assembly this week, it presents 40 images of Jesus' time in the wilderness and his inner turmoil and temptation as portrayed by the devil. Toward the end there is a particular image that the Headteacher has drawn attention to; an image of Jesus lying desolate and weak in a cave and with him are the angels. This image illustrates the point that we are never alone. When we enter the wilderness and listen to what lies within, that is God. Like the angels surrounding Jesus, God is always with us but due to the distraction and apparent fullness of our day-to-day lives we sometimes we need to shut all else away and be still amongst the emptiness to remind ourselves of that.
So, although it may seem scary to be alone in the emptiness, when we travel further into it we discover that we are in fact surrounded by God's love and enjoy the great fruits found in the desert.
Click on the picture to see the video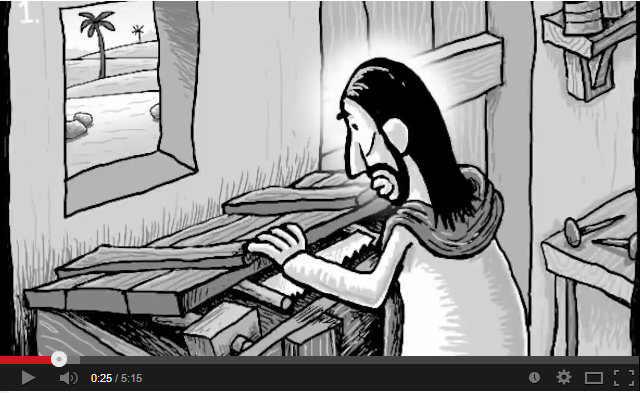 Prayer:
As we stop and listen for your voice in our lives we pray that you, O Lord, continue to guide us by your love through the season of Lent . Help us to find resolve in your word and the energy to live out the Gospel message in all that we do.
Amen