Kool-Aid
This product shoild not be brought in to school as it 'may have an adverse effect on activity and attention in children'
4th April 2014
Dear Parent/carer,
It has come to our attention that a number of our students are purchasing a product called 'Kool-Aid' and bringing it into school to consume. Kool-Aid is sold as an 'Artificial flavoured powdered drinks mix' which is intended to be disolved in water before consumption. It contains artificial colours, flavours and several 'E' numbers and carries the following warning on the packaging:
'May have an adverse effect on activity and attention in children'
Staff at the school have witnessed several children eating the product straight from the pack, choosing not to dilute it in water. As it contains a strong dye the contents are staining students hands and lips which remains visible throughout the school day. This product should not be brought on to school premises and I would strongly advise all parents to speak to their children if they become aware that they are purchasing and consuming this product. Students who bring this item onto the school site will be removed from break times and their parents/carers will be contacted.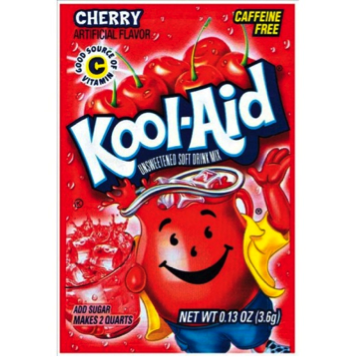 'Kool-Aid' packaging
I would also like to take this opportunity to inform families that following the Easter break the school jumper becomes an optional uniform item and does not have to be worn during the summer term.
May I wish you a happy and restful Easter and look forward to seeing you in the new term.
Yours sincerely,
Mr P Walton
Senior Assistant Headteacher in charge of Pupil CarePlease enter some content for your news story here