Marathon Woman!
Mrs Austin (Admissions Officer) completes her first marathon raising money for a small charity - BEARS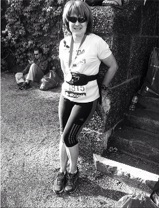 Mrs Austin (Admissions Officer) overcame injury sustained in the last weeks of training to run the London Marathon over the Easter Holiday
This was her first marathon and she was delighted to see so many friends, family and colleagues along the course to cheer her on. She ran on behalf of BEARS - a small charity that equips, trains and supports volunteer Doctors and Paramedics to attend patients in Essex and into Hertfordshire who require advanced pre-hospital care.
Mrs Austin completed the course in 5 hours 45 minutes. She now fancies having a go at the Manchester marathon and is aiming for 5 hours in her next attempt!