Dis Poetry
This term Year 7 pupils are studying the poetry of Benjamin Zephaniah: these are the thoughts of a pupil in last year's Year 7.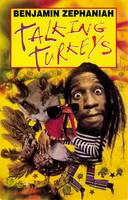 Benjamin Zephaniah says that poetry is designed to sound fun with lots of rhythm and rhyme. I know this because he uses lots of words associated with rhyme and rhythm such as "Dis", "Chantin" and "Dat". These are all words which have one or two syllables which adds to the rhythm and when they are placed at the end of a line they rhyme.
He says that his poetry is personal because he says, 'Dis poetry is wid me when I go tu me bed.' This tells me that it is always in his head.

He also says that he has tried to read other poetry and although it is good, he didn't really enjoy it. I know this because he says 'But did is de stuff I like.' In other words he likes street poetry written in dialect.

Another thing he says is that there are no complex words in his poem and that his poems rely on words rhyming. 'Dis poetry is Verbal Riddim, no big words involved.' In this way everybody can understand his poems.

The poet says that you don't need to read a lot of books to read poetry; it is about being creative and using your head. I know this because he says "Pages of written words are not needed". This suggests that he thinks we all have creative minds, because we all vocabulary in our minds and we have good imaginations.

By Marco Afonso