Facing Challenges
How can we face up to challenges as we start new chapters of our lives?
This week, sadly, we start the process of breaking up the community. This Friday our Year 11 and 12 students will leave the normal school schedule and begin the exam season and in the coming weeks the 13's will follow suit. As sad as it is to lose members of the community, it is a wonderful time for these students; before them is the opportunity to make of themselves what they will, to go out into the world and fulfil all the dreams they have and all the gifts that God has given them.
As great an opportunity this is for them it is also a challenge. To go out and become what you have dreamed of is not easy. This is true for our dreams and aspirations and it is also true for our faith. We are called to follow, but the path on which we must journey is often not easy and we face challenges in our search for reunion with God through Jesus. In this week's segment from Praying Each Day, a daily prayer book that gives short reflections, the author Nicholas Hutchinson reflects upon the achievements of Roger Bannister, the great distance runner who was the first person to run a mile in under four minutes, sixty years ago this week. Bannister wrote a book, "First Four Minutes" in which he says the following: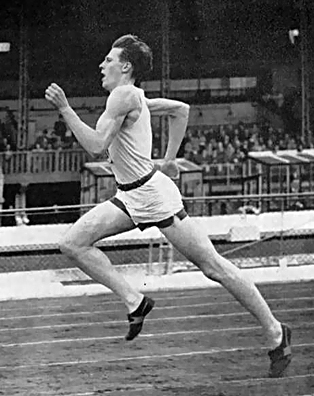 Sooner or later in sport we run into situations that are too big for us to master. In real life we can dodge them. We can play hide and seek with reality, never facing the truth about ourselves. In sport we cannot. It shakes our roots with its confusing pattern of success and failure. As a result, sport leads to the most remarkable self-discovery of our limitations as well as of our abilities.
We all have ideals, and as we have grown up we have the choice whether to pursue them or to give them up. If we pursue them we may not attain them. At times we may wonder whether there is any point in the pursuit, because of the sacrifices involved.
We need to strive to achieve more and more, not for purely selfish motives, but because of the recognition of some higher purpose. The aim is to move with the greatest possible freedom towards the realisation of the best within us. This is the quest of a lifetime, and sport plays only a small part in it.
As Catholics we acknowledge that we are sinners, that there is always room for improvement. Our "quest" is undoubtedly a challenge, but one that we must continue to strive toward, not to step away from or ignore. To be good Christians we must continue ever onward in our pursuit. As our students make their ways into this world they must be steadfast and resolute in achieving their goals; but so must we all. As the great Bannister says we cannot avoid the challenges in life instead we must meet them head on and the experience of which will make us all the better.
Prayer:
Lord, inspire us in all that we do, through the example of your son give us the courage to face up to our challenges and through the guidance of the Holy Spirit enable us to believe in our dreams and aspirations. We pray especially for all our students who will be leaving us soon and that you can be with them at all times in their journey through life. Amen
Photograph: from Academy of Excellence