Macbeth Review
Georges Khoury in Year 10 has reviewed the National Youth Theatre's production of Macbeth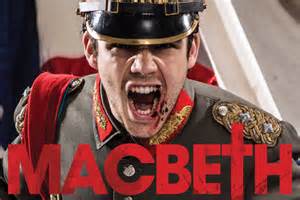 Twenty three Year 10s went to see the National Youth Theatre's production of Macbeth last Friday at the Ambassador's Theatre, Leicester Square. Georges Khoury in Year 10 has reviewed the production:

Whilst watching the theatre production of Macbeth I found that the use of slow motion in the characters added a great atmosphere especially during the scene of the war nearing the end. Another great use of slow motion was during Macbeth's soliloquy with the dagger, the director cleverly uses it so show that Macbeth's soliloquy is aimed at the audience and not at the characters on the stage.

The director also implements humour effectively in the form of the porter, this part presents a humorous tone in the midst of all this tragedy and murder which me and my friends all found superb. The witches present a role in which they hide within the King's ranks and office, at the times when they appear it shocks the audience as it is unexpected.

Overall the students, teachers and I all found this theatre production execute very well however some parts were rather tedious. I would give this production an 8 out of 10 and I am sure all of my fellow students would agree.