A Christmas Message
We come towards the end of a hectic year, and the conclusion of our building projects...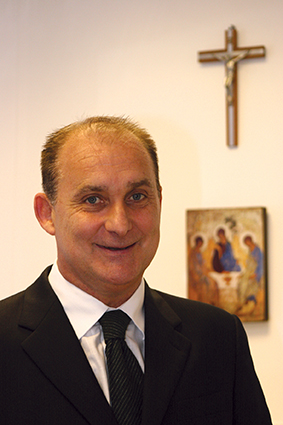 Dear Parents / Carers
I write as we come towards the end of a hectic year, and the conclusion of our building projects. We have seen the departure of Balfour Beatty after four and a half years. In addition, last year we used the Schools budget surplus to complete work independent of BSF, including the building of our new Business Studies block at the back of the school, a new ICT based homework and independent study centre and completion of our small playing field. If the surplus had not been spent before March it may have been taken from our budget by the Local Authority; the new facilities will benefit our students for many years into the future.
We have been inspected by the Diocese and Ofsted. The areas for development identified by the inspections were being addressed prior to the inspections; these will improve over the coming year. 2015 will see yet more challenges for all schools as the Key Stage 3 National Curriculum, GCSE's and Advanced levels are all changed significantly.
We will meet these challenges in a very difficult financial context. The coalition government claims to have safeguarded spending on schools. They have, to be fair, maintained funding levels for students Years 7-11. However, the funding has been flat and increased costs over the last four years mean that spending in real terms has been cut. Sixth Form funding has been cut by a third. This is compounded by the fact that the amount of funding per pupil given to Cardinal Wiseman students by the Local Authority is the lowest of all Ealing schools. The difference in funding between Cardinal Wiseman and some other schools is around £1,800 per student; if you multiply that by 1500 you will arrive at a figure that demonstrates that Cardinal Wiseman is underfunded in comparison to other schools in Ealing. I have yet to receive a convincing justification of why this is from the Local Authority.
Despite funding concerns we are in a strong position moving into 2015, and have much to be thankful for:
The Diocesan and Ofsted inspections were extremely positive.
We have a modern and spacious campus, with world class learning facilities.
A talented and committed staff, determined to achieve the best outcomes for our students.
And a strong community of parent's and local parishes, with over 1,000 applicants for next year's Year 7 places.
I wish you all a happy and holy festive season.
Best wishes
Michael Kiely