Year 9 Lyon Exchange
There is an information meeting in preparation for the arrival of our French visitors on Thursday March 5th 2015 betwee 4.25 - 5.15 pm
YEAR 9 LYON EXCHANGE- APRIL 22ND-29TH 2015

FAO Parents of all Year 9 Lyon exchange students.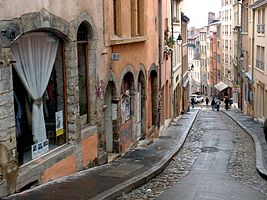 I am pleased to invite you and your child to an information meeting in preparation for the arrival of our French visitors shortly after the Easter break during the above dates. We have arranged for the meeting to take place from 4.30pm-5.15pm in class room T1 (Tabor Building) on Thursday March 5th 2015. This is the same date as the Year 9 Options evening; where you will have the opportunity to visit subject areas with your son/daughter. We have decided that it would make sense for us to meet on the same evening, in order to save you having to come to school on a separate occasion. I do ask that you make every effort to attend this meeting. Please meet Mr Bird in Jerusalem reception at 4.25pm.
Please confirm your attendance by email: birdb@wiseman.ealing.sch.uk