Morgan Stanley
Two Year 12 Economics and Maths students enjoyed a two day visit to Global Investment Bank Morgan Stanley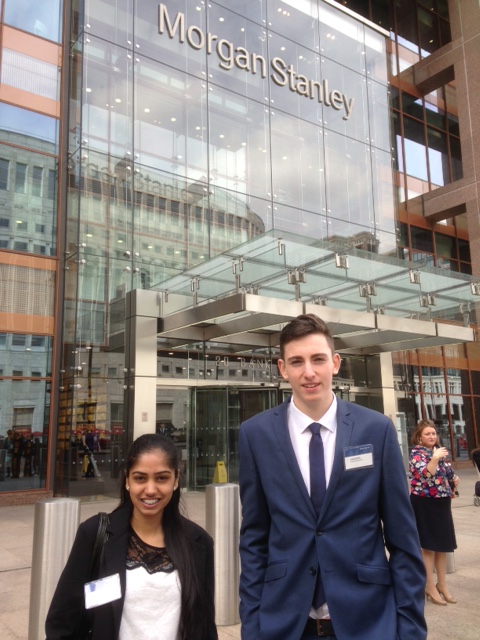 Two Year 12 Economics and Maths students enjoyed a two day visit to Global Investment Bank Morgan Stanley. They were guests of Net Eire & Co-operation Ireland Youth Initiative.
Morgan Stanley joined up with Co-operation Ireland to give a group of young people from Belfast, Dublin and London an opportunity to participate in a unique programme of events, with potentially life changing results.
They flew young people from Belfast and Dublin to their head offices in London's Canary Wharf where they were joined by London students. For two days the group learned not only about the financial services industry, but also about a range of other career opportunities, networking and personal development skills. Some of the highlights of the two days were a visit to the Bloomberg Office, including a Bloomberg TV, Employability & Skills presentation, Project Management Exercise, visit to the Trading Floor and the main part of the second day – Entrepreneurship workshop and a presentation.
The students also had the opportunity to meet senior Irish people within the bank to hear their stories and experiences. These included Michael O'Toole, Managing Director at the financial services firm, who has visited our school many times in the past during our annual UCAS Conference.
Both of our students had a fantastic time, participating actively in all workshops, networking and making friends. We would like to thank Morgan Stanley, and in particular Mr O'Toole, Caroline McLaughlin and Bill Daly, as well as Dr Alan Largey and Corinna Crooks who run the project at Co-operation Ireland, for inviting our students.
Mrs M Sowa, UCAS and Enrichment Advisor