Year 9 Retreats
All Year 9 students are required to attend the annual Year 9 Retreat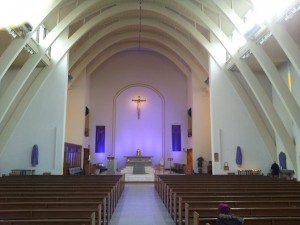 We are pleased to inform you that The Cardinal Wiseman Catholic School continues to offer opportunities for students to grow as a community and in faith. All Year 9 students are required to attend the annual Year 9 Retreat. A retreat is an opportunity for students to be away from their routine day, and take time to reflect on themselves and their relationship with God and with others.
The retreats will be on Wed 1st July (A Half) OR Thurs 2nd July (B Half) and will be held in the Parish Centre Our Lady of the Visitation Church, next door to the school. Students should arrive at the parish centre at 8.50am (the start of the normal school day).
Students will still be able to purchase lunch from the school canteen during the lunch break.
Student may wear non-uniform clothing, but it must be appropriate.
Unauthorised absences will be treated accordingly, and thus result in the appropriate sanction.
Please sign the permission slip below, and return the slip below to your child's tutor by Friday 26th June 2015. We look forward to an enjoyable, grace-filled retreat.
Thank you and God bless,
Mrs. Nelle Dalton and Mr. Dominic Willis
Chaplain Assistant Chaplain