Any Questions?
There are still a few free tickets available for the live broadcast of Any Questions? tonight at 6.30pm? Call us for details.
Do you have any burning questions about politics and the world today? We are only six miles from Heathrow, if you have any questions about the delay on the decision for expansion, or any other topic, now is your chance for answers?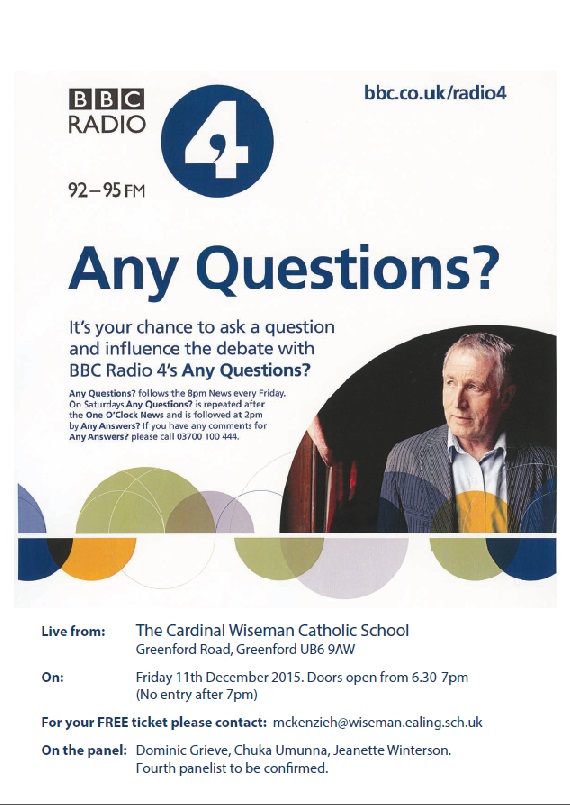 The BBC Radio 4 programme Any Questions? will be hosted by Cardinal Wiseman Catholic School on Friday 11th December. Any Questions? goes out live on Friday evenings at 8pm on BBC Radio 4 (repeated on Saturday afternoons at 1.10pm). Doors open at 5.30pm with no entry after 7pm.
Any Questions? with Jonathan Dimbleby is a political panel programme that provides the opportunity for people to challenge leading politicians, policy makers, writers and thinkers. Tonight's panelists include Dominic Grieve, Chuka Umunna and Jeanette Winterson.
Have your say! Tickets are free and are available on a first come, first served basis. Call the school on 0208 575 8222
School Address: Cardinal Wiseman Catholic School, Greenford Road, Greenford, UB6 9AW. How to get here