Cambridge University Visit
A group of 40 students from Year 10 and 11, visited Jesus College, Cambridge University as guests of Ed Penn, Access and Schools Liaison Officer.
A group of 40 students from Year 10 and 11, together with Ms Somrah (Head of Sixth Form) Mrs Sowa (UCAS Advisor) and Ms Jennings (Deputy Head of Year 10) visited Cambridge University on Thursday 19th November. We travelled there as guests of Ed Penn, Access and Schools Liaison Officer from Jesus College, Cambridge.
**********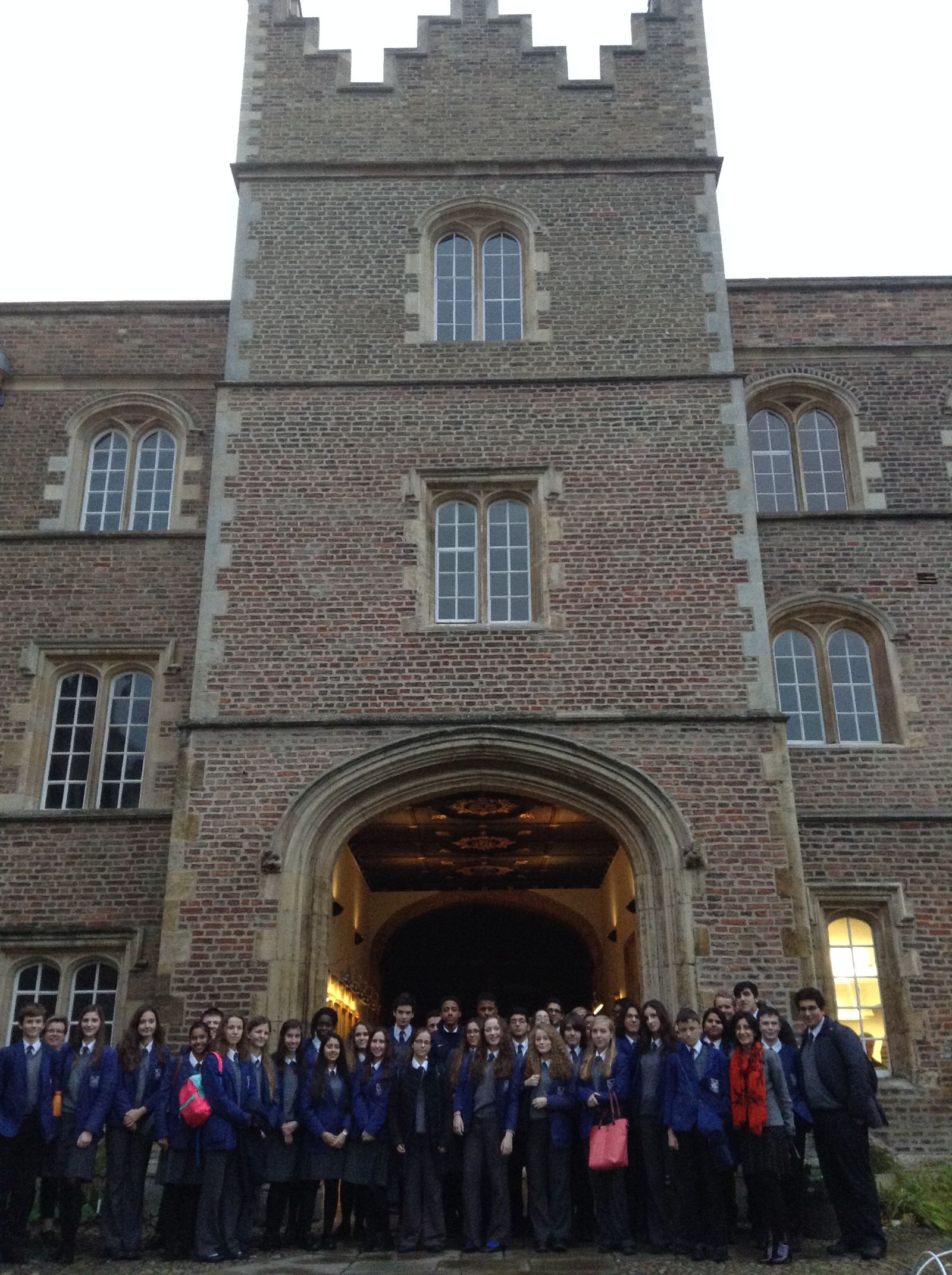 The aim of the visit was to introduce our pupils to what life at a top university such as Cambridge would be like. Feeding their enthusiasm and building their confidence has hopefully also convinced them that studying at a top university may well be the right choice for them.
The day started with an introductory talk by Ed, who gave students a lot of information about reasons why they should be going to university and why they might consider Cambridge. There was a lively discussion, with our students asking many questions around the topic of choosing good A Level subjects that would help with successful admission to elite universities.
We walked around Cambridge, negotiating the narrow lanes with never ending lines of cyclists hurrying back and forth between lectures and colleges. Soon it became apparent that cycling is the main mode of transport for Cambridge students. The long walk took us to the University's Sidgwick Site and the amazing Law Faculty building, designed by Sir Norman Foster. It contains the University's Squire Law Library, together with offices, lecture and seminar rooms and common room facilities. We were welcomed by Ms Ali Lyons, Law Faculty Schools Liaison Co-ordinator and shown around the building and the library. We also went to one of the lecture rooms where we listened to Mr. Henry Mares, who told the students about the structure of the Law lectures and tutorials, called supervisions in Cambridge. As we were leaving the lecture room we spotted one of our Wiseman students, Leah who has just started her first year reading Law and who could not believe her eyes watching a long line of Wiseman blue uniforms marching along the corridor. We clearly took her by surprise - but we could not have planned it any better - our Y10 and Y11 students were able to see that Cardinal Wiseman sends students to Cambridge!! The following day Leah sent us a message: "I hope the Wiseman students that were here today realised what an amazing place this is and loved it as much as I do. I wish them well in their studies and hopefully I will see them here in the future!".
Back in Jesus College we were treated to a delicious lunch which we sat down to in an amazing dining hall full of old portraits of distinguished professors. We had an opportunity to chat to a group of current undergraduate students who also took us around the College, showing us some of the facilities including a library.
The day culminated with a Biology lecture delivered by Dr Jenny Hirst, Post-Doctoral Researcher and followed by a talk from Dr Christopher Burlinson, Admissions Tutor for Recruitment, who gave our students very detailed information about the admissions and interview process. Again our students were very engaged and asked many insightful questions.
---

These are comments written by two of the students:
"Arriving at the College at around 10, we were greeted by Ed, the School Liaison Officer, with a warm smile. We then spent the day discovering a large amount of what university life would be like if, in a few years' time, we decided to apply to a university. After having a small talk about how Cambridge is not actually as exclusive as you may think, with the fees being the same as any other university, we took a small journey to the faculty of Law, where we visited a lecture hall and took a peek at the massive, 3-floor library, in which students were hard at work studying for their exams. We then travelled back to the college, where there was a delectable lunch waiting for our arrival. While having lunch, we were given the opportunity to converse with some undergraduate students, who showed us around, and answered the many questions we had for them! We were then given the opportunity to participate in a taster lecture on cell biology, where we learned a lot about how messages are passed around the body, and then finally were told about how the application process works for if, in the future, we decide to apply! It was a great day, and I feel as if it has really helped me be more informed as to my options for higher education, as well as dispelling some myths I had about university!" Callum Fraser, Year 10
"Before we went to Cambridge we had no idea what life was like in a university. I enjoyed asking questions as the answers I got were very helpful. I also liked the trip around Cambridge as I enjoyed the fact that Cambridge had a combination of old and modern buildings which blended in together. The day was an insight to life in a university and has helped me make my decision to apply to universities after my A Levels." – Belinda Perez, Year 10
---
All in all, we had a fantastic time at Cambridge - our students were really inspired by what they saw and very engaged and enthusiastic all day. We are so grateful to Cambridge for giving us this opportunity to visit this amazing University. We would like to thank Ed Penn and everyone who contributed to making the day such a successful and enjoyable experience.
---