Entrepreneurial Evening
A group of year ten business studies students met some of the country's finest entrepreneurs.
A group of year ten business studies students were given the rare opportunity to meet and speak with some of the country's finest entrepreneurs. The students were incredibly excited as it allowed them to experience first-hand what they had been learning about as part of their GCSE course and also a few of our own budding entrepreneurs were hoping to learn the secrets of the entrepreneur's success! They listened to the experiences of Peter Harris, Co Founder of Hotel Chocolat (yes we did get free chocolate afterwards!) Sophie Cornish MBE, Co – Founder of notonthehighstreet.com and Alexander McLean who set up a charity called African Prisons Project amongst others and the evening was chaired by Jez Cartwright author of 'The Handbook for Exceptional People' and owns a business management consultancy firm.
From these talks the students gained valuable insights into the world of business realising that it's natural to make a mistakes as long as you learn from it; that resilience is key as setting up your own business is a marathon not a sprint and finally, enthusiasm and belief in your idea is fundamental to making a dream become reality.
Afterwards the students were able to speak with the entrepreneurs and seek advice from them about how to get into certain industries and many realised that these were normal people who had an idea and worked hard to make that idea reality. With the majority of entrepreneurs being under the ages of 35 and lots of new starts up companies based online, it gave the students food for thought and made them realise that there was no reason why in the future it couldn't be them talking to students about how they took the world by storm setting up their own a multimillion pound international organisation or even charity to help others less fortunate than themselves.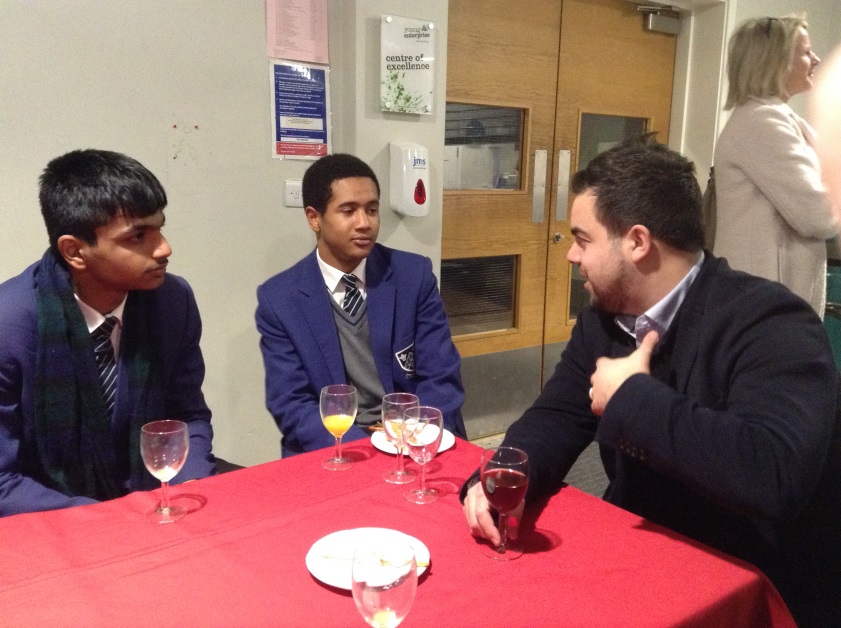 Two students discussing with Rob Dann how he came up with the idea to set up B.O.B's Lobster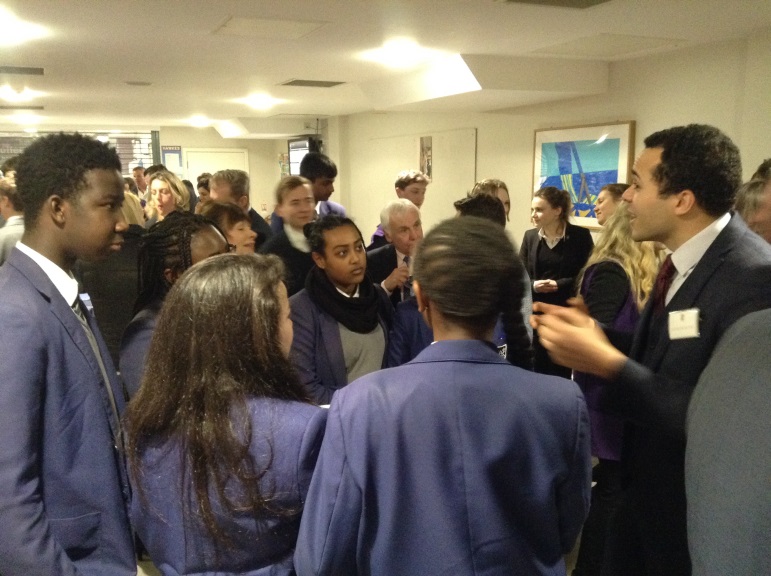 All the students were really taken with Alexander McLean and what it was that inspired him to set up the African Prions Project charity and what drives him on a daily basis.
The girls were particularly taken with Sophie Cornish Co-founder of notonthehighstreet.com and spoke to her about how she managed to make the move from journalism and writing for Cosmopolitan to taking a leap of faith to set up her own business.