Resistant Materials
Resistant Materials is an exciting and hugely popular subject that allows students to design a product that can solve problems. Students are encouraged to experiment with different materials to reach the most effective product/solution. Throughout their time studying Resistant Materials, students will be given short focused practical tasks to build on their knowledge, to ensure they have broad depth of skills and knowledge to work with for their controlled assessment.
Key Stage 3
Year 7: Mobile Phone/iPod Holder
Students will learn a range of designing skills and CAD/CAM skills. Students will carry out a Focused practical task in which they develop and practice particular skills and knowledge and create a design brief to guide their design thinking. Each pupil will use these skills to create a holder for their Mobile or Ipod!

---
Year 8: Sustainable Kandinsky Clock
Students are introduced to Sustainability and the use of ICT to design and manufacture a clock using the work of artist Kandinsky as inspiration. The students will research the work of Kandinsky, design a clock in the style of Kandinsky and manufacture it using CAD/CAM technology.

Year 9 - Design and Make a Small Storage Unit
Students are exposed to a range of materials, computer and practical techniques to produce a small storage unit of their choice. Students will have to design, develop and manufacture this product whilst learning a range of practical skills including comb joints, line bending, vacuum forming as well as CAD/CAM applications.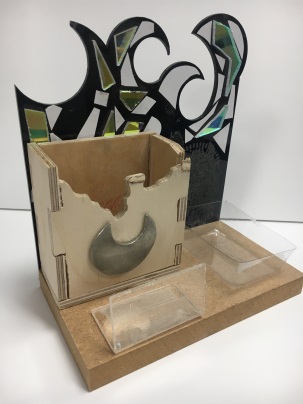 ---
Key Stage 4
Year 10 & 11 – Design & Technology 1-9 (with a focus on Resistant Materials)
This is a lively, motivational and innovative course which allows students to display falir, imagination and creativity through a range of practical and theoretical activities. Over the two year course students will be experimenting in a range of D&T areas including Graphics and Electronics to gain a core understanding of all Design & Technology disciplines. The 2nd year students will conduct their controlled assessment where they will specialise in the use Resistant Materials.
Assessments:
Written Exam – 2 hours (50% of GCSE)
Non exam Assessment – 40 hours (50% of GCSE)