UCAS Conference 2016
Starting from Monday 27th June 2016, we collapsed the whole teaching timetable for Year 12 students and dedicated all five days to our annual UCAS and Careers Conference. Instead of normal lessons students attended various events and workshops carefully designed to prepare them for the task of completing the university application process.
Monday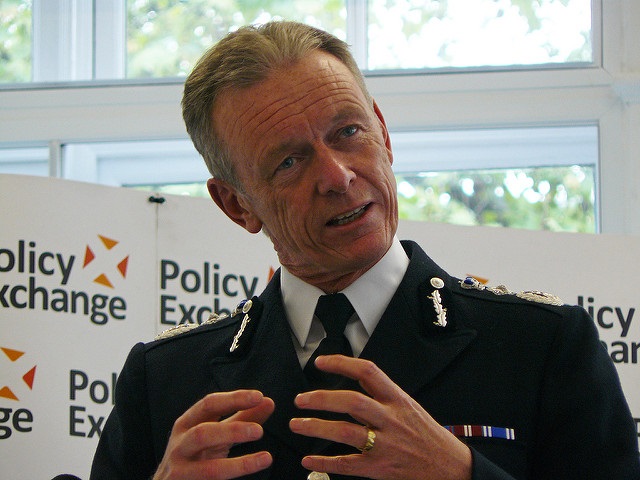 On Monday the conference started with a keynote speaker: Sir Bernard Hogan Howe, who talked to students about his own career from his High School and A Levels to the point when he became the Metropolitan Police Commissioner. He answered many questions put to him by our students, on topics ranging from challenges he faced as Met Commissioner following Government cuts to the police service, tackling the growing problem of knife and gun crime in London, to the Met Police ability to cope with the Paris style multiple terrorist attacks. Sir Bernard also offered advice to students on possible career prospects within the Police Force and whether going to university first would open up more opportunities.
After Sir Bernard's visit, the day continued with a carousel of workshops. Every student attended three sessions: on how to write a personal statement; how to conduct a course search on UCAS.com; as well as a session on how to complete the UCAS application online.
Tuesday
On Tuesday we listened to a presentation by Dan Flatt from the University of Leicester who talked about getting the best out of a Higher Education Fair. Afterwards everyone visited the HE Fair in Greenford Hall where they met representatives from many different universities. We received a lot of praise from the organisers who commented that they were very impressed with our students' maturity, conduct and level of questioning.
On Tuesday students also had an opportunity to register on the UCAS website. This way we have given all our Year 12 students a head start in the long process of applying to university.
Wednesday
On Wednesday we welcomed guest speakers representing leading businesses, delivering "Meet the Professionals" sessions. Many of the speakers were our own ex-students who left Cardinal Wiseman some years ago to pursue a university degree and a successful career and wanted to come back to share their experiences and wisdom and give back to the school community. Students were given in advance the list of speakers and were asked to sign up to two sessions that were close to what they are planning to study at university. This way everyone found that they were talking to young people who were genuinely interested in that particular field. Our guests were really impressed by the level of detailed and mature questions and were happy to be contacted by students searching for work experience or shadowing opportunities. Students who were chosen to act as school ambassadors welcomed the guests and looked after them throughout their visit. Here are the details of all the sessions:
SPEAKER

Topics of the talk

Bob Lindsey, Volunteer from STEMNET, Chartered Mechanical Engineer with a wide experience of Manufacturing and Product Design,

Different types of Engineering,

Product Design, Manufacturing

Michael O'Toole, Managing Director of Morgan Stanley Investment Bank

Financial services, Private banking, Investment Banking, IT Technology Production and Innovations in Finance

Dr Michael Holmes, Medical Doctor, Oncology Surgeon,

Fellow of the RCS, Executive Director Oncology Medical Affairs at MSD – a Global Health Care Company

Medical Degree

Biomedical Science Degree

Working at NHS Hospital

Biomedical Science Research

Pharmaceutical Industry

Drug Development

Pierce Ronan, ex CW student Construction Apprentice and Trainee Engineer currently taking a degree in Construction Engineering

Neil Weller, Partner at

Troup Bywaters + Anders

Apprenticeships in

Construction Industry

Construction Engineering

Alice Walker - Audit

Clare Tomkins – Recruitment Gareth Brady - Team of people from Ernst & Young

Apprenticeships

School Leavers Programme

Recruitment into

Accountancy, Audit, Tax Advice

Adepeju Abiola , ex CW student, Business & Technology Integration Associate at Accenture

Management and Business degree

IT

Paul Cayford , Architect and Partner at Cayford Architecture

Design & Architecture

Elaine dela Cruz , ex CW student, Head of Advertising at Dennis Publishing, Independent Media Company and Publishers

Media Publishing

Communications

Computer science

Marketing

Business studies

Jo Griffin, ex CW student

Freelance Journalist for Guardian and Observer

Journalism

Freelance writing

Creative writing

Stephanie Brandano , ex CW student, Police officer with a background in Criminology and Forensic Science

Criminology

Forensic Science

Working for a Police Force

Anthony Forde, ex CW student,

a specialist children's Solicitor at Campbell Hooper & Co

Studying for Law degree,

Routes into Law,

Working as a solicitor
The day ended with lunch for all our guests. Y12 students found meeting the professionals to be particularly beneficial and many were inspired and motivated by our guests.
Thursday
On Thursday students had a chance to listen to David Cooper, who is a member of the Events and Outreach team at Frontier, a company experienced at organising Gap Year and Projects Abroad. This was followed by a presentation on how to write an outstanding CV and prepare for a successful interview, as well as Personal Branding and Social Media Do's and Don'ts, both fascinating topics.
On Thursday we also welcomed over 20 Wiseman Alumni, who have just completed their first year at university and came back to talk to our students about their experiences of university life. Those sessions were fun and lively and gave our students an opportunity to ask all those important questions about fresher's week, finances, living away from home and generally managing life as a university student.
Friday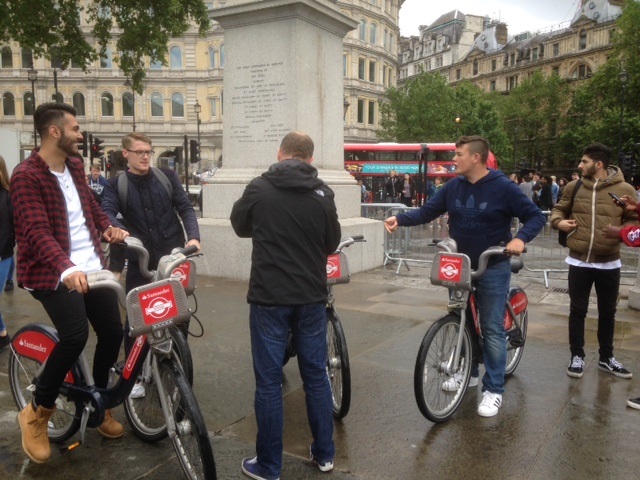 On Friday we took all our Year 12 students to central London. We met at Trafalgar Square and after getting everyone into groups, we sent them on a University Treasure Hunt. Each team had to travel around London to various universities and colleges as well as London landmarks. They had to bring back prospectuses as well as photos to win points for this challenge. There was no end to students' inventiveness; they walked, travelled on trains, buses and even jumped on Boris bikes. The winning teams will be announced in next week's assembly.
It was a lovely day, enjoyed by all, despite overcast sky and occasional drizzle. It was a fantastic way to finish a remarkably successful week of UCAS activities. Thank you to all our guests, students and staff for making this week very successful and productive.