Paris Trip 2011
Forty students from Years 8 and 9 set off on an exciting trip to Paris, France.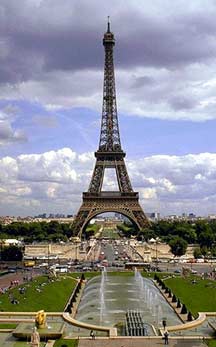 Friday 27th May 2011, 40 students from Years 8 and 9 set off on a long, but extremely exciting trip to Paris, France. Armed with sun cream and French dictionaries, both students and staff were ready for a fun-packed 4 days in France's capital city.
On arrival in Paris, students were given a guided tour of the city before reaching the famous 'Champs Élysée' and the fabulous view of the Arc de Triomphe at one end, and the obelisk at 'Place de la Concorde' at the other. With excitement at fever pitch watching the 10 lanes of traffic circle out of control around the Arc de Triomphe, we headed for our hotel in order to get a good night's sleep in preparation for the day's activities to follow.
With a bright and early start the next day, and after having made our packed lunch (and spoken a little French to the hotel manager) we set off for a fantastic boat cruise along the river Seine, followed by the ascent of the Eiffel Tower, a visit to the Pompidou Centre, prayers at Notre Dame Cathedral and finally dinner in the Latin Quarter - Les Crêpes! Delicieuses! Much fun was had by all...including the Parisians who enjoyed chatting to our students in French from the banks of the Seine!
For the students, day 3 of the trip was the 'pièce de résistance!' - Disneyland Paris! With temperatures soaring to 25 degrees, we could not have had more perfect conditions for our time spent with Mickey and the rest of the gang! Our last day was rapidly approaching and it was soon time to say our goodbyes to Paris. With one final visit to Sacré-Coeur and Montmartre, we had a few hours to buy our last minute souvenirs, before heading back to British soil.
The trip was a fantastic success. Students were given the opportunity to practise their French, whilst learning about French culture and history at the same time and they were all an absolute credit to the 'Wiseman' name. Huge thanks must go to the trip organiser, Mr Bird, as well as to Mr Quinn and Miss Hopper who did a sterling job alongside him. I can't wait for next year's trip already!
Miss Murphy