Drama
The Drama Department aims to treat Drama as an art form, a practical activity and an intellectual discipline. We allow students to express themselves and to learn about the world around them in a supported and creative environment.
"I hear - I forget. I see - I remember. I do - I understand"

Old Chinese Proverb.
---
Key Stage 3 (Years 7, 8 and 9)
Year 7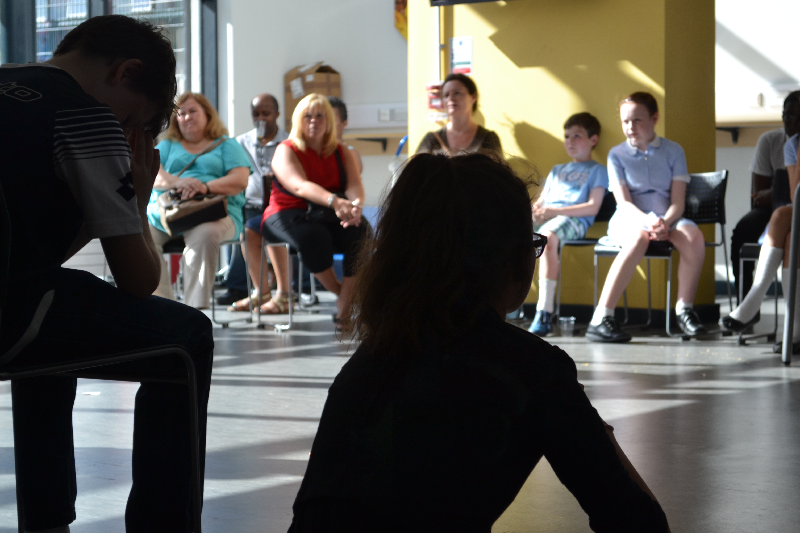 Commedia dell'arte- Using a 16th Century style of comedy to explore our use of face, body and space to create comedy
The Kinder transport - Researching, creating characters and performing scenes.
The Bully Asleep - Creating the story of Bill using Drama techniques.
Year 8
Liz and Emma - Creating Dramatic moments through the story of Liz and Emma.
Physical Theatre - Learning about the physical theatre discipline.
Scripts and Staging - Students perform a script and decide on the staging they want to use.
Year 9
Outsider- Use of the theme outsider to explore different stimulus and use different techniques to create drama
Script work- use a script to analyse different characters and themes in the script and create performance
Comedy - Learning about different comedy forms
---
Key Stage 4 (Years 10 and 11)
GCSE Exam Board: Edexcel
Year One:
Devising from a theme
Performing a Poem
Performing a Monologue
Exploring a Play Text
Performing a Play Text
Creating and performing a devised piece of theatre
Writing a theatre review.
Year Two:
Unit One - Exploration of a Theme
Unit Two - Exploration of a Play Text
Unit Three – Performance
---
Key Stage 5 (Years 12 and 13)
Exam Board: Edexcel
Year One
Unit One - Exploration of two Play Texts
Unit Two - Performance of a monologue/duologue /Performance of a play.
Year 2
Unit Three - Devising
Unit Four - Written exam on Greek Theatre and Shakespeare.
---
Success and Achievements:
We have achieved 100% A*-C at A Level.
We have achieved 80% A* - C at GCSE.
Drama students at Wiseman have gone on to gain Firsts in their Drama and English Degree Courses.
We support the Catholic Ethos of the school through performance in liturgies and services. We have taken part in the Shakespeare's Schools Festival and the National Theatre Connections project where the performances have been praised highly. We make sure our students go to the theatre as often as possible and run theatre trips for all year groups throughout the year. Opportunities throughout the year to take part in productions, Drama clubs, workshops and events. The Drama department is an lively, creative and friendly environment for a student to develop and learn.
Photograph is from our Expressive Arts Evening 2014