Faith Life
The Cardinal Wiseman Catholic School is a strong community centred on Jesus and founded on Christian faith, love and the teachings of the Catholic Church. The spiritual and religious life of the school are enhanced through liturgies, retreats, prayer, social justice events and awareness of God's Presence in all things.
We are blessed with a full time chaplain, Mary Boland. However, the success of Chaplaincy depends on the collaboration and support from a cross section of staff, students, parents, governors and local clergy who all share their gifts of time and talent to make these activities possible.
Although the Chaplain does not have a formal counselling role in the school, she is available for students, staff & parents should they need to speak to someone. Our chaplain serves to support and pray with anyone who is in need.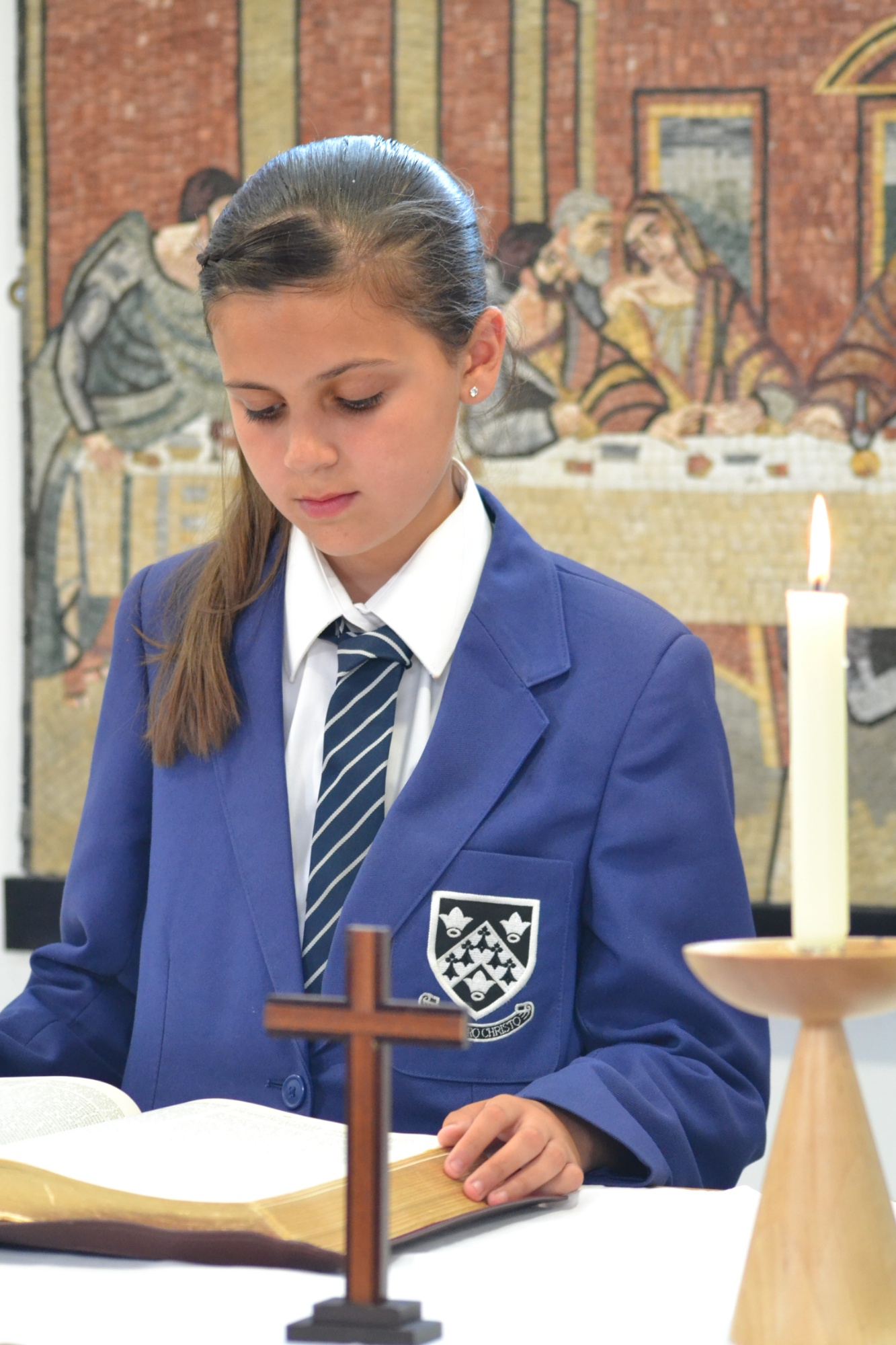 Our beautiful chapel is located at the heart of the school and is used daily for worship, prayer and learning.

Eucharistic Ministers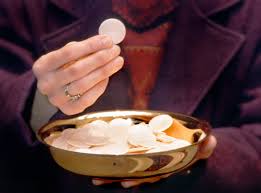 Recently four members of staff and two Year 13 students were commissioned by Father Liam as Ministers of the Eucharist. They will now be able to minister Communion at our school Masses.
---
Virtual Prayer Board
Do not be anxious about anything, but in everything by prayer and supplication with thanksgiving let your requests be made known to God.

Philippians 4:6
This prayer board is available to the whole of our school community. Please let us know how we can pray for you or if you have a special intention. All requests will remain anonymous. The requests are prayed for every Friday during our time of Adoration and updated below once a month.
---
Chaplaincy Newsletter
---
Chaplaincy Activities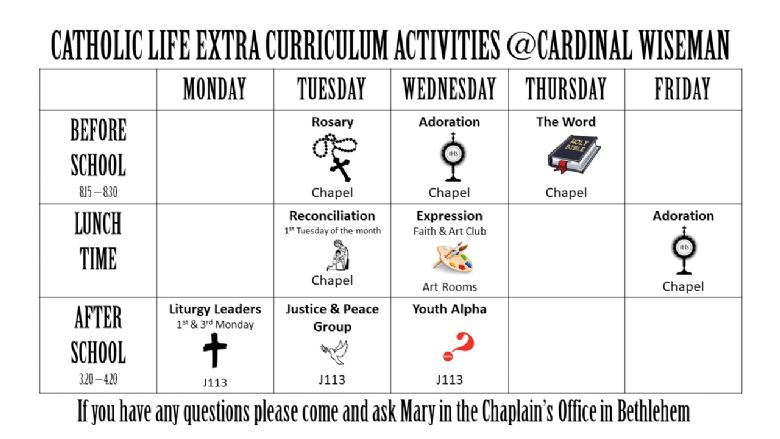 ---
Year 7 Retreats
A special part of welcoming our new students into the Wiseman Community is their Retreat. They reflected and shared on what being part of the Wiseman Family means to them.
Year 7's "Here I am" prayers for their first year at Cardinal Wiseman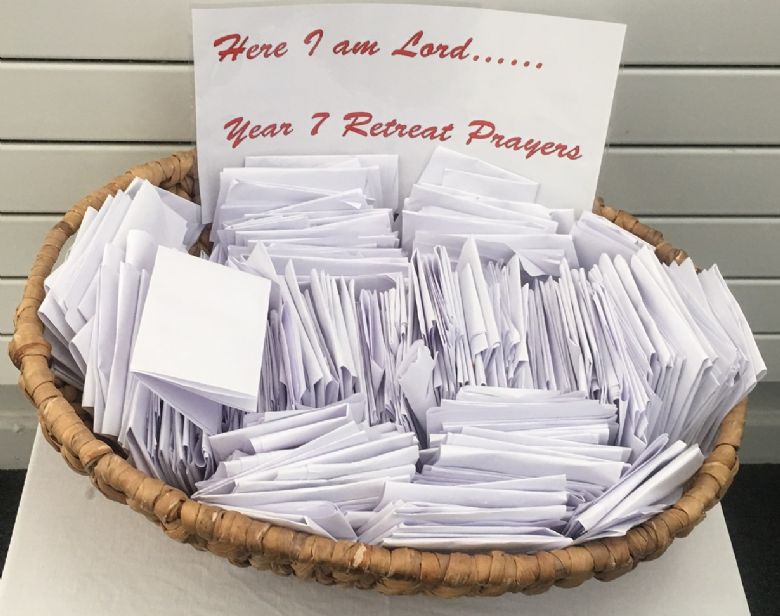 ---
Foodbank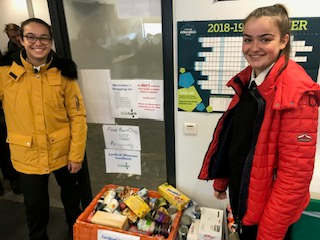 Our school is focusing on the aspect of service during reflections on the Eucharistic Journey. We are working with Ealing Foodbank this year to support them in their amazing work of providing food to local families in crisis, we have set up a donation point in the RE Office, we will take Cardinal Wiseman's Donation to the Ealing Foodbank warehouse once a week.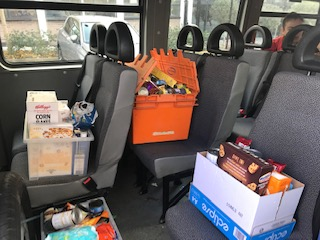 Ealing Foodbank desperately needs long-term and regular donations to ensure that they can continue to the work that they do within our community. Since they opened, they have distributed over 151.3 tonnes of food which fed nearly 14,377 people 3 meals for 3 days, these people are living in our community.
How can our community help?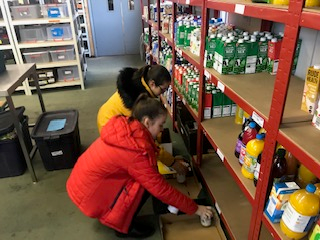 We are encouraging students to simply bring in one of the items on the monthly shopping list and drop it off to the RE office… It is that simple!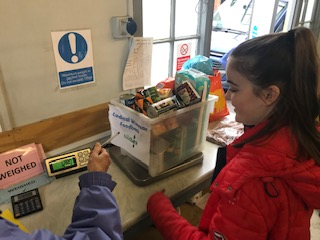 We are encouraging them to use their money and buy a small item as part of their weekly routine so that we can give a regular donation to Ealing Foodbank to help those in crisis in our community. This way we can make a sustainable difference and live out our motto "we are all one in Christ".
Your support is much appreciated.
The Harvest List:
• Cereal & Porridge
• Tinned Meat & Fish
• Tinned Fruit & Vegetables
• Milk – Dried & UHT
• Long Life Fruit Juice & Squash
• Instant Coffee & Drinking Chocolate
• Savoury & Sweet Biscuits
• Tinned Soup
• Long Life Sponge Puddings
• Noodles – all types
• Ketchup & Mayo – small sizes please
---
Celebrating Mass in the Visitation Parish

---
Catholic News
Pope Francis releases Message for World Mission Day 2019
Pope Francis has declared October 2019 as an Extraordinary month of mission. He has requested that everyone thinks about their role as Missionary Disciples. Here at The Cardinal Wiseman school the staff have answered his call. Each department has created their own mission statement which they will reflect on during October and the coming year.
A Year of the Word
The Catholic Bishops' Conference of England and Wales have designated 2020 as 'The God Who Speaks': A Year of the Word. For more information click on the images below
---
Our Chapel
Many ways to pray - Our Sensory Prayer Stand
---
Our Chaplain
Hello, my name is Mary, and I am the Chaplain here at The Cardinal Wiseman Catholic School. I have three passions in life: my family, my faith and working with young people, the latter of which I have done for several years now. I strongly believe that all people, regardless of age, should have appropriate guidance and access to resources which will further develop their spiritual life and enable them to enter into a deeper understanding of their faith and their relationship with God.
I am very excited to join the school, and I look forward to getting to know and working with pupils, staff and families of the Cardinal Wiseman Community. I also look forward to building on the relationships and activities already in place, as well as creating new opportunities for the school community to serve our extended family, both at home and abroad.
If you wish to contact me please feel free to either pop in for a chat - my office is next to the Chapel, on the first floor of Bethlehem building - or email me at:
bolandm@wiseman.ealing.sch.uk
---
Our Parish
Our local parish church is Our Lady of the Visitation

We are a school in the Diocese of Westminster