Music
In this technologically developing world we believe that Music has become an important part of our everyday lives and is a universal forum for creativity and expression. At Cardinal Wiseman we like to offer all students a variety of ways in which they can experience music, within the classroom, as part of extra-curricular activities, through individual instrumental lessons and through contributing to the spiritual life of the school. We believe all students, regardless of musical experience or ability, should be able to access Music and we aim to provide a curriculum and extra-curricular programme which enables them to achieve their potential.
"Music is the universal language of Mankind"

Henry Wadsworth Longfellow
---
Key Stage 3 (Years 7, 8 and 9)
The music department provides a broad curriculum across all key stages, which shows clear progression and enables students to develop their skills on a variety of instruments and musical mediums. The curriculum enriches students' knowledge and understanding of different musical genres and cultures through performing, composing and listening and analysis. Students are also given the opportunity to create music using specific musical software such as Garageband and LogicPro.
Year 7
Autumn Term- The Elements of Music
Spring Term: Pitch
Summer Term: The Singing Festival
Year 8
Autumn Term: Remix and Variation
Spring Term: African Drumming
Summer Term: Reggae
Year 9
Autumn Term: Club Dance
Spring Term: Samba
Summer Term: Music in Advertising
---
Key Stage 4 (Years 7, 8 and 9)
GCSE
The Music GCSE course follows the EDEXCEL syllabus which continues to develop the three skills; performing, composing and listening and analysis. All three skills are assessed at the end of year 11, focusing on four Areas of Study:
Western Classical Music (1600-1899)
Music in the 20th Century, Popular music in context
World Music
Assessment is on-going throughout the course. Formal assessments include:
Performing component - 1 solo performance on your preferred instrument (normally in Dec of year 11)
1 ensemble performance on your preferred instrument (normally in Jun of year 10)
Composing component -2 compositions completed in year 11
Listening exam
One exam (1 hour 30 min) with 2 sections, both of which focus on the four areas of study
---
Success and Achievements: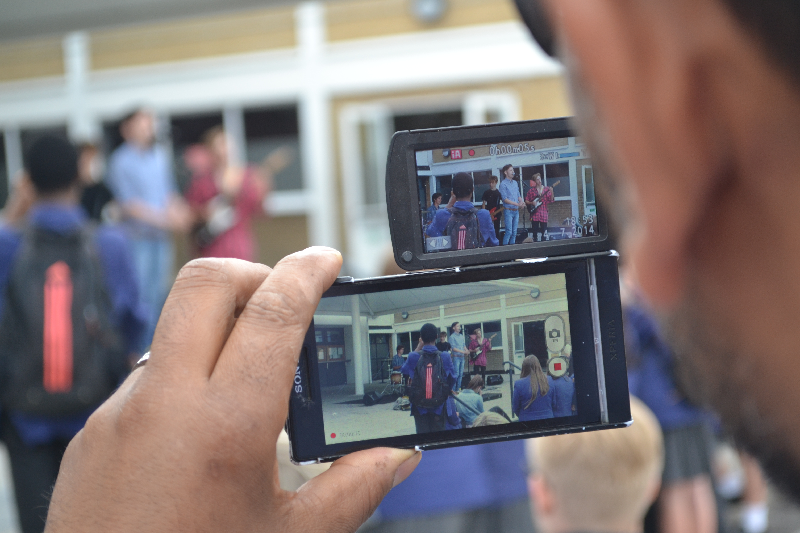 Some examples of musical events and successes in recent years at Cardinal Wiseman School are:
Advent services
Carol services
KEY STAGE 3 (YEARS 7, 8 AND 9)
Drama and Music recitals,
GCSE and A level Music recitals
Justice and Peace liturgies
Weekly masses
"Born for This" Easter liturgy (April 2012)
Year 7 Singing festival
Indian Music and African Drumming workshops
End of term concerts
Gospel choir performances at various events including Ealing Youth Prom
Performances at open evenings and Celebration of Success events
---
Instrumental Lesson Timetables - Click here
---
Photograph is of a performance at our Expressive Arts Evening 2014